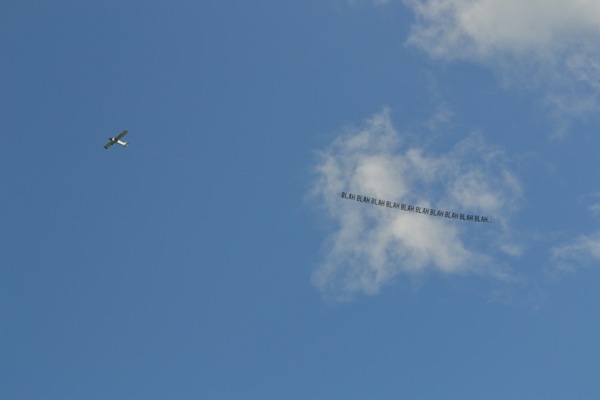 A few loud, low-flying planes pulling text banners slowly rumbled along the beach today near the Deauville. They're part of an aerial group show curated by Adam Shopkorn that is supported by the Morgans Hotel Group, Van Wagner Communications and Art Basel Miami Beach. The project is called "Plane Text." Here's hoping someone out there on the beach is Rich Texts! (Sorry.)
The four that flew nearby read:
— WE'RE RICH WE DO WHAT WE WANT
— EVERYTHING IS COLLECTED NOTHING IS SAVED
— BLAH BLAH BLAH BLAH BLAH BLAH BLAH BLAH BLAH BLAH…
— DOG TO VET. NEW SILVERWARE. WASH LIMO. DECLARE WAR.
The first is by Jack Pierson, the second is Allen Ruppersberg and the third is Mel Bochner. The fourth, which we were not immediately able to identify, is actually from an unrelated project by artist Noelle Mason, who told us by e-mail that she planned it before hearing about "Plane Text." The text on her banner? It's an abridged version of FDR's to-do list on the day of Pearl Harbor, Dec. 7, the same day that it flew in Miami.
Other artists involved in "Plane Text" are Gary Simmons, Ed Ruscha and, naturally, Lawrence Weiner.