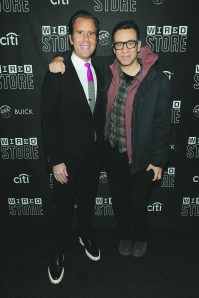 The lights were bright, the music poppy and the toys plentiful at the opening of the Wired pop-up store party in Soho last week. Incoming editor in chief Scott Dadich greeted the crowd with a big smile and a lot of handshaking. He was splitting town for San Francisco soon—he starts at his new post in early January. Mr. Dadich looked Bay Area-appropriate in a jaunty tie designed by his wife and black-and-white Burberry sneakers to go with his suit.
"He looks like Ron Burgundy," a friend noted.
The crowd gravitated toward the dance floor, where ?uestlove pumped out songs that made the Transom nostalgic for bar mitzvah music. Among the guests we spotted This American Life host Ira Glass and actress Amber Tamblyn, the latter trying out a new Chromebook. Kinect stations at the Buick Verano Turbo activation lined the sides of the room, and nobody seemed too old to wave his or her arms wildly.The martini bar no doubt helped.
"I like looking at gadgets," Portlandia actor Fred Armisen told the Transom. Mr. Armisen and SNL cast member Vanessa Bayer were especially taken with the 3D printer, which printed functioning headphones and a dress.
"I feel like I'm doing so much advertising," Ms. Bayer said when we suggested that she and Mr. Armisen work for the company that makes the 3D printer. "Anyone who will listen, I'm telling them about it." She took a bite of a marshmallow-filled brownie, which statuesque women carried among the guests on silver trays.
"It looks like a Best Buy in here," we overheard someone say, which we later conveyed to Ms. Bayer.
"What kind of Best Buy would have a 3D printer?" she asked with mock indignation.
As we stood in the path of the food trays, a young entrepreneur offered to show us his favorite gadget on display—a safe with a cellphone charger inside. We were about to express disbelief that anybody would choose that above all other gadgets, when it dawned on us that ulterior motives were at play.
"Did you invent this?" we asked. He had, though he did not clarify its purpose.
"I like the safe with the charger," Mr. Armisen told us later. "You know, when you are in a hotel and you put your iPad in the safe? At least it can still charge."
We suppose.
Like the electronic-charging safe, some gadgets on display were utilitarian, while others were more … conceptual.
"Apparently, that ball that rolls around is really cool," Ms. Bayer said. "I didn't totally understand it, but it's supposed to be cool."
But the Transom's favorite gadget—we never did find the ball Ms. Bayer described—had to be the TSA-grade bag scanner with a printer attached. We just dropped our purse on the conveyor belt and left clutching a printout of its contents. We didn't even have to take off our shoes.