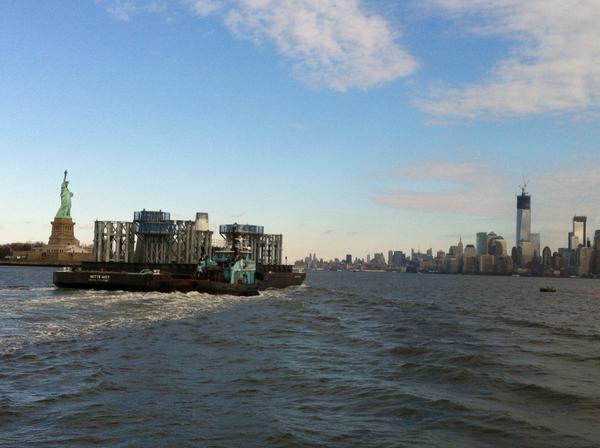 In a subtle reminder of the connection between New Jersey and New York that undergird the Port Authority, the spire that will top the agency's 1 World Trade Center departed its berth in the Port of Newark for Lower Manhattan this morning. Once the barge carrying eight pieces of the 400-foot tower topper arrives in New York, it will be unloaded in preparation for installation atop the city's tallest building.
The remaining 10 pieces were trucked down from their foundry in Quebec, but these pieces had to be shipped from Canada last month because they were too heavy to travel on the highway.
It is interesting to have finally gotten a close up of the spire, considering there is a big debate about whether or not it is a spire at all, because an artistic covering for the skyline spear was removed at the recommendation of the Durst Organization, the tower's co-developer. If the Council on Tall Buildings, which decides who is the biggest, should find the spire lacking in integral architectural intent, the rooftop protrusion could be deemed a simple antenna, rather than an integral part of the design, knocking the building down from its symbolic height of 1776 feet (or is it 1784?) to a mere 1,386 feet, the height of the tower itself.