Update: We may have found her! See below for deets.
Come on, ladies! Fess up … we would have totally loved to step forward to claim that we were the lucky, anonymous interviewer whom James Deen told Kelly Bourdet from Vice.com on Friday he had sexual relations with. But you know, journalism and ethics and stuff. So we can't lie, we never touched the golden god of pornography's Dirk Diggler. But that doesn't mean you can't!

In an article last week, we posited (after 20 minutes of labor-intensive research) that the most likely candidate was 100 Questions' Gaby Dunn, who wrote up her meeting with Mr. Deen like it was a spin-off of 50 Shades of Grey. But Ms. Dunn responded on Twitter to our post: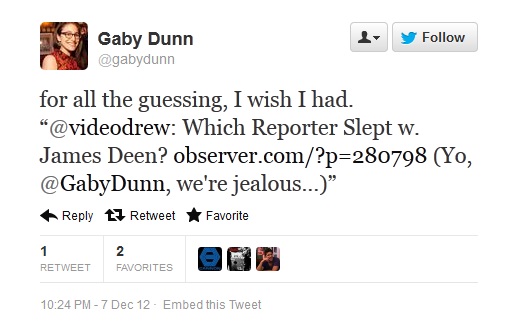 Our second suspect was the Vice reporter herself, but she also claimed innocence: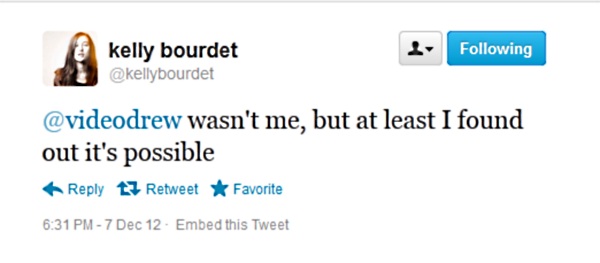 Of course, that still leaves our last candidate, Emily Heist Moss from GoodMenProject.com. Or, jeez, could it possibly be someone from a video interview? Brooke Anderson??! That opens up so many new possibilities! We are looking at you, Inside Edition's Brooke Anderson and Nightline's Cecilia Vega!

http://youtu.be/7bxzjEKJJ60
Update: A source just pointed to Salon's Tracy Clark-Flory, who wrote an essay titled "Bringing home a porn star: Sleeping with my favorite male performer gave me new appreciation for the difference between fantasy and reality." It definitely appears that she slept with Mr. Deen: they both live on the West Coast; the description–"smoldering eyes, strong nose and athletic body…He's a rare male performer who is charismatic, young and handsome — everything the infamous Ron Jeremy is not"–fits; and she wrote about the encounter in March, right around the time the world was getting turned on to his hotness.
But query…does a personal essay qualify as an "interview"? Because that's what Mr. Deen admitted to…sleeping with someone who had interviewed him.