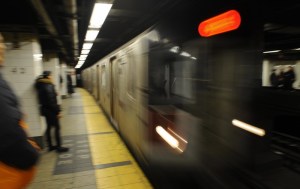 Reports from the scene indicate a man struck by the N train in Midtown on Monday may have been pushed. The incident occurred in the 49th Street and 7th Avenue subway station around 12:30 p.m., after the victim fell from the platform. He tried to climb to safety but didn't make it. He was transported to Roosevelt Hospital, where he later died from his injuries.
The station was evacuated after the incident and N, Q and R trains from all directions directed to bypass the 49th Street Station.
Witnesses say the man may have fallen onto the tracks during a confrontation. According to Gothamist, some witnesses "were so traumatized by what they saw" that they too were taken to the hospital.
CBS New York reports police are studying security video from the scene in addition to interviewing witnesses.
They are seeking a 20-something person of interest the CBS affiliate describes as "a black male, who was wearing a white t-shirt, a down coat and a beanie-style cap."