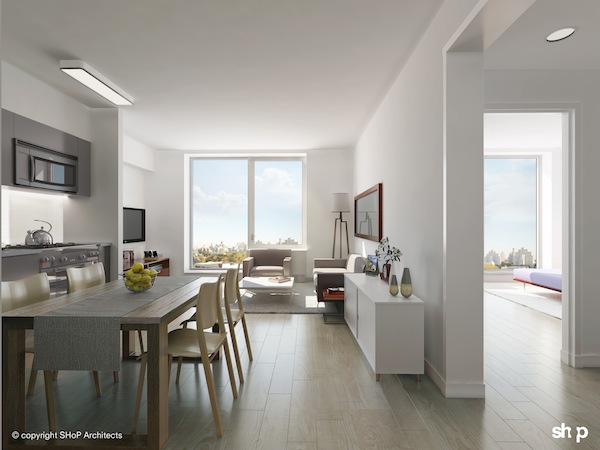 Well, modular is here, and it's real. After decades of dreaming by architects, an unlikely patron, developer Bruce Ratner, has made it possible to build a New York City building in a factory, assembling the units on site. Instead of cars, we will now be rolling apartments off an assembly line.
New Yorkers got their first look at the product, too, or at least the "chasis" around which these units will be built, at a ground breaking for the first Atlantic Yards residential tower, B2, nestled up beside the Barclays Center in Brooklyn. 
"This may be the means and method to create more opportunities for construction that would not have existed if it were not for this technology," Gary LaBarbera, head of the New York City Building Trades Council declared from the dais.
Mr. LaBarbera has become an unlikely ally for the development, considering many union jobs were promised when this project came along, and a good deal of the savings modular offers is through limiting the most high-cost jobs of certain union workers. The units will still be constructed in a union shop at a factory, but using lower-paid workers. Still, Mr. Labarbera seemed pleased that what he touted as 125 new union jobs, even if they were low-paying, were better than none at all.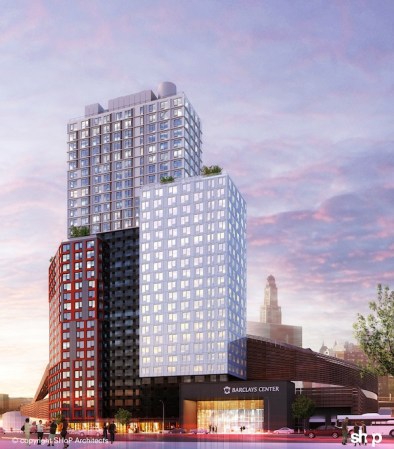 Plus, there are the other opportunities this new technology opens up, not only making unfeasible projects buildable, thanks to the estimated 30 percent savings, but it could also convert non-union jobs to unionized ones. Bruce Ratner, Mayor Bloomberg and Borough President Marty Markowitz all cheered on the possibility of modular housing becoming a booming export from Brooklyn and elsewhere in the city. "It's a whole new industry, born here in Brooklyn," Mr. Markowitz proudly declared.
"Many of the guys working on these types of projects are the same ones who could be living in these units," Mr. LaBarbera said.
Having seen them now, would you?