The holidays aren't only a good time for giving to others; they're also a popular time for people of means to buy themselves lavish gifts. This year Apollo Global Management managing director Marc Rowan went all out: the billionaire and bride Carolyn splurged on a $26 million co-op at 927 Fifth Avenue, according to city records.
The Rowans, who own a floor-through on the sixth floor, have purchased the floor-through on the fifth floor. The couple could be looking for a slightly inferior view, of course, but we'd say this a fairly unambiguous move to create a duplex floor-through.
What's more, in May, the Rowans bought a $7.7 million commercial unit on the ground floor. Now that the red-tailed hawks have moved on it appears that the Rowans want to rule the roost at the tony limestone behemoth.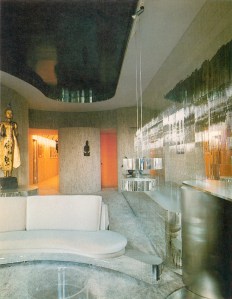 It's not the cushiest perch. The apartment, which was sold by Claire Edersheim, the widow of financier Maurits Edersheim via the Edersheim 2000 Marital Trust, was designed by the late Paul Rudolph. The Brutalist architect and former dean of the Yale School of Architecture, and his love of concrete and other uncomfortable surfaces, did not win many fans in the residential market.( Indeed, his status as a designer of upscale interiors could not be more different from that the current dean—Robert A.M. Stern.) Although the famed architect did appear to have softened his design somewhat for the Edersheims' pre-War spread, judging by photos of the Edersheim apartment and their Long Island home, also renovated by Rudolph.
Given the multitude of chintz-covered living rooms and mahogany paneled libraries we've looked at, the bracing design is rather refreshing, if a little dated (the Edersheims were long-term residents of the building). Unfortunately, we doubt if Rudolph's vision be blended with whatever sixth-floor design motif the Rowans have selected. Not to mention the fact that a major redesign is basically a given when creating a duplex from two simplexes. Mr. Rowan has not yet returned a request for comment on his plans for the space.
The unit was not listed publicly, so we can't say who'll be taking home the sizable commission on this sale. Fortunately for Ms. Edersheim, the deal closed in December, which will mean a lower tax rate on the rather considerable capital gains she'll be paying. It's a happy New Year for everyone involved.
kvelsey@observer.com