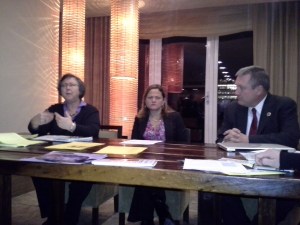 In the heart of Council Speaker Christine Quinn's Chelsea base, the boisterous Democratic club named for late gay rights activist Jim Owles met last night for their first meeting of the year where they reiterated their current mission: ensuring Ms. Quinn, who could become the first lesbian to lead New York City, never, ever, ever leads New York City.
"The harshest dictatorship I've ever seen has been under Christine Quinn," said Allen Roskoff, a notorious antagonist of Ms. Quinn's and president of the Jim Owles Liberal Democratic Club. "One of the two bills that Christine Quinn has sponsored herself … is to name the Queensboro Bridge after Ed Koch, who people here know in the gay community is considered an AIDS criminal and know what he's done as far as right-wing people he's supported for office. … It is so unusual to name anything after someone who is alive, it's like, unheard of. And so, very good friends of the LGBT community, and members of the LGBT community and even people who said they were not going to vote for it voted to name the bridge and when I asked them why," he paused for dramatic effect, "because Quinn demanded it."
The anti-Quinn tirade was par for the course for Mr. Roskoff, a noted gay-rights activist who leads the well-connected club. Indeed, three of Ms. Quinn's Democratic opponents–Public Advocate Bill de Blasio, Comptroller John Liu and former Comptroller Bill Thompson–sit on the group's board of governors.
Atop the Caledonia, a tony Chelsea apartment building where a black-clad doorman is solely employed to nudge a revolving door forward, the members of the Jim Owles club also grilled Harlem Councilwoman Melissa Mark-Viverito, a candidate to succeed the term-limited Quinn as speaker. Their questions focused on why she and her fellow progressives have not ensured a bill that would mandate paid sick leave for city workers becomes law. Critics have accused Ms. Quinn of effectively killing the Paid Sick Days legislation by keeping it from a vote on the Council floor.
"Could you address why the progressive caucus hasn't forced hearings and a vote on paid sick leave?" Mr. Roskoff asked Ms. Mark-Viverito.
"We've had conversations. We're actually having a meeting this week," Ms. Mark-Viverito replied, explaining that the legislation has "many different pieces to it" and that discussion about the bill is ongoing but incomplete. "We've been having conversations and there is some serious consideration about what next step we might want to take. We do talk about it every time, we do meet, and it's something we are concerned about, and you know, it's an election year and everything that's happening right now is being seen through that lens and that's the reality."
Ms. Mark-Viverito did not quite give the answer the anti-Quinn audience was hoping to hear: progressives are stalling because Ms. Quinn wants it that way. At one point in the meeting, Mr. Roskoff said that a council member, whom he only identified by gender, told him that she would not move to make the paid sick leave bill law because she was afraid Ms. Quinn would punish her by cutting funding for a crucial community program in her district. Ms. Quinn has argued the legislation would hurt small businesses in the current weak economic climate.
One member of the club, Scott Caplan, went on to assail Ms. Mark-Viverito's Progressive Caucus for having members "who don't even support LGBT issues." However, by the end of the meeting, Ms. Mark-Viverito was easily able to win over the crowd.
"At this point, I've already publicly stated I will not endorse Christine Quinn," she said, trying to speak through a hearty round of applause.