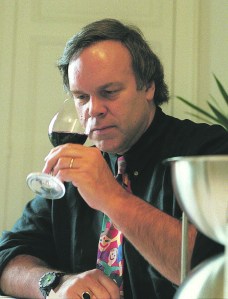 Before Robert M. Parker Jr., nobody knew what terroir or tannins were, and mouthfeel wasn't something you discussed in mixed company. White wine was for seafood, but chardonnay or Pouilly Fuissé was anyone's guess. Chianti? Sure, the bottle makes a groovy candleholder.
Until Mr. Parker and his newsletter helped demystify wine for the masses with an easy peasy 100-point system, America was a Bud and white Russian kind of place.
"Robert Parker deserves credit for Americans getting excited about wine," said Michael Steinberger, Slate's wine columnist. "Before Parker, there was anxiety about choosing wine, and Parker and his point system helped take away the fear. No critic will ever wield the kind of power that he wielded."
Thanks to Mr. Parker, Americans who didn't know a Bordeaux from a Burgundy learned how to swirl and spit like the pros. We started going to wineries on day trips, and became first-name buds with the owner of our local wine boutique, another Parker-era outgrowth. And now that we're all dropping descriptions like "wet dog" and "tobacco," the grand master of muscadet is beginning to retire his mighty pen.
Wine experts say Mr. Parker's powers were already on the wane when the news broke in December that he was selling the majority stake in his 34-year-old newsletter to unnamed Singapore-based investors, and was relinquishing all reviewing, with the exception of his beloved Bordeaux and Rhône wines. Currently, the newsletter has 50,000 subscribers who pay $75 a year for six issues.
The setting of the sun on an oaky empire was heralded by the announcement that the magazine would cease print publication (that part was later retracted), and that The Advocate would start accepting advertising (as long as it wasn't wine-related) and would sponsor tastings. All while focusing on the emerging Asian luxury market.
Mr. Parker said he was turning over The Advocate's editorial oversight to his Singapore-based correspondent, Lisa Perrotti-Brown. A Colby grad with a degree in English lit, Ms. Perrotti-Brown worked as a seller in London and a wine buyer in Tokyo before going to Singapore and getting her Master of Wine certification (the Ph.D. of the wine world) in 2008. Mr. Parker later said that the Singapore office is to be a second outpost where the investors and the new editor in chief will conduct business and editorial operations, but the headquarters will remain in Monkton, Md.
Whichever the case, Mr. Parker's willingness to formally relinquish his scoring rubric is a sign of his diminished power—a trend that is likely to continue, according to wine writer Alice Feiring. "He will always be a cultural figure, but once you license a brand, it gets watered down." Ms. Feiring is the author of a 2008 book, The Battle for Wine and Love, or How I Saved the World from Parkerization.
"No critic can sell more product," said New York Times wine critic Eric Asimov. "But the days that he can advise are over. He has lost a lot of influence over the past few years. Many people have decided that they don't need a leader."
The wine sector has seen 17 years of consecutive growth, and last year Americans officially began consuming more wine by volume than the original winos over in France. We've also made wine our own. Supermarket aisles are stocked with bottles of Fat Bastard, Mad Housewife Chardonnay, Yellow Tail, Arrogant Frog Ribet and Elephant on a Tightrope. While Mr. Parker and his disciples are still quaffing Chateaux la Fifi, those with less-refined palates—the vast majority—reach for the niftiest label.
"The 100-point culture has consistently rewarded high-power, high-priced wines," William Tish, the managing editor of Beverage Media Group, a trade organization, told The Observer in an email. "And yet, these wines are way too strong and rough for the basic wine drinker. The hottest (as in sales and buzz) wines today are outside that mold. Moscato, $10 red blends like Apothic Red, Cupcake Red Velvet and Prosecco are affordable and actually taste good to most people."