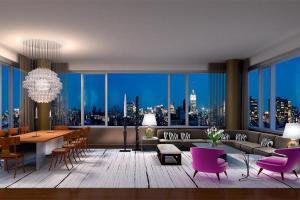 They say that staging an apartment is a sure way to fetch a higher price. So imagine the markdown that Aby Rosen would have taken on his penthouse at 350 West Broadway if he hadn't decorated the walls of the building with his personal art collection.
Records show that the 5,912-square-foot spread has sold for $17.56 million, which looks impressive by itself and not bad compared to the most recent $20.65 million asking price. But consider that the sponsor-unit was asking $26 million when it came on the market in December 2009. Either Soho's appeal is dwindling in inverse proportion to the hordes of shopping bag-toting tourists mobbing the streets or real estate there isn't quite as valuable as Mr. Rosen had hoped.
It's not the first time that Mr. Rosen's ambitious asking prices have gotten the better of him. His townhouse at 22 East 71st Street lingered on the market for four years being listed for $75 million. It's in contract now, reportedly for $47 million to the Qatari prime minister. The deal has yet to close.
Who will this discounted paradise atop the building of glass and champagne aluminum (their words, not ours)? Why, an LLC of course! Weston Capital Partners will enjoy not only the sophisticated, modern layout, but 360-degree views and a huge rooftop terrace. A structurally reinforced rooftop terrace, we might add, which can accommodate a "future Jacuzzi or substantial art piece." Because what limited liability corporation doesn't love Jacuzzis and fine art?
kvelsey@observer.com