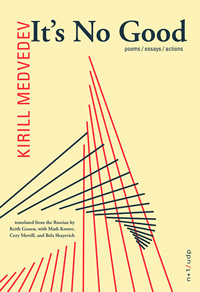 There is a curious disclaimer in the colophon of It's No Good (n+1/Ugly Duckling Presse, 280 pp., $16), the first comprehensive collection of translated writings by the Russian poet Kirill Medvedev to appear in English: "Copyright denied by Kirill Medvedev, 2012." After achieving a degree of success in the Moscow literary world as a poet and translator in the late 1990s and early 2000s, Mr. Medvedev announced a retirement of sorts in 2003: he would continue writing, but he would no longer take part in any of the other activities typical of the "professional" poet, refusing to give readings, accept awards or, most importantly, publish his work through conventional channels.
In a statement published on his website that year, Mr. Medvedev described what he saw as an oppressive cultural situation in which the artist was necessarily compromised by governmental and commercial interests. He renounced all copyright to his work, declaring in his 2004 "Manifesto on Copyright" that any future print editions of his writings would be "PIRATE EDITION[S], that is to say, WITHOUT THE PERMISSION OF THE AUTHOR, WITHOUT ANY CONTRACTS OR AGREEMENTS." He began posting poems and essays on his personal blogs and, more recently, on his Facebook wall, instead of in books and literary magazines. This was not, he insisted, a "heroic pose, or 'PR' stunt," but rather an earnest attempt to posit an alternative to the circumstances faced by contemporary artists and writers, suggesting that such a position might offer a way toward a "more honest, uncompromising, and genuinely contemporary art in my country."
This "pirate edition" of his writings, edited by Keith Gessen and translated by Mr. Gessen, Mark Krotov, Cory Merrill and Bela Shayevich, collects roughly a decade's worth of Mr. Medvedev's output, from 2000 to 2012. Comprising poems, essays and less easily categorizable texts placed under the heading "actions" (mostly descriptions of various one-man protests organized by Medvedev, such as a picket of a Moscow performance of Brecht's Drums in the Night directed by the politically conservative Alexander Kalyagin), It's No Good offers a broad portrait of the author as an idiosyncratic and uncompromising thinker. It aims to encapsulate the diversity—and the interconnectedness—of his activities as a poet, a cultural critic and an activist.
Introducing Mr. Medvedev to an American audience is a daunting task, given not only the range of his output (in addition to his literary and activist projects, he began translating and publishing the work of contemporary Marxist theorists under his own imprint, The Free Marxist Press, in 2007) but also its rootedness in a largely unfamiliar sociopolitical and cultural context. The collection is a thorough primer on Mr. Medvedev's work, at times even superfluously so.
But It's No Good intends to give an overall impression of Mr. Medvedev as a worthwhile poet and an even more talented polemicist. The texts are arranged chronologically, rather than by type, which serves a dual purpose, emphasizing the inextricable relationship between his poetry and literary criticism and his activism, and providing an impression of a trajectory marked by a kind of intellectual and political awakening that occurs in tandem with the progressively worsening cultural and political climate in Russia. There is a marked shift in tone from the earliest poems, written before his split with the literary establishment, characterized by sardonic and candid accounts of wandering the aisles of a grocery store or attending a party, and the subsequent work, in which malaise and anxiety is replaced by urgency.
The later poems are similar in style, maintaining the casual, conversational free verse that brought Mr. Medvedev his initial acclaim, but they reflect a sense of a broader project or expanded consciousness, often referencing conflicts with the police and government authorities and the rise of neo-fascism; over time, his sense of the everyday became increasingly inextricable from political reality. The later poems in particular are shown to be in constant dialogue with the biting critical essays, manifestos and outlines of his "actions" with which they are interspersed, both in their placement on the page and in the author's own conception of them.
The line that runs through all the texts reproduced in It's No Good, regardless of genre, is a disavowal of the notion of the writer as a private citizen, a response to Joseph Brodsky's insistence, in his 1987 Nobel Prize acceptance speech, that the writer can only speak for himself, that the relationship between a poet and his reader is an intimate one that excludes the rest of the world. As Mr. Medvedev writes in the essay "My Fascism," "We need to do away with this false notion of 'literature as private activity.' Because poetic language in Russia, even the most refined and individualized, is, sorry to say, far from being your private business."
The poet, for Mr. Medvedev, has an ethical imperative to participate in public life. His fiercest condemnations are not aimed at oligarchs and neo-fascists, but at members of the liberal intelligentsia who believe that it is possible to exist outside of politics. "Privatization," however, takes on an added meaning in the context of post-Soviet Russia. As he forcefully outlines in the essay "Literature Will Be Tested," even the literary works that emerged in the 1990s, which insisted upon their subjectivity and separation from political life, were intimately tied to a political condition. "Political passivity also participates in history," he wrote. "It too is responsible."
As his writings make clear, the Russia that Mr. Medvedev confronts is incompatible with the familiar Cold War lens through which the region is often still viewed; his worldview is shaped just as much by 9/11 and the Iraq War as it is by Glasnost and Perestroika. In his introduction, Mr. Gessen suggests that Mr. Medvedev might be Russia's "first genuinely post-Soviet writer," echoing Mr. Medvedev's insistence, in an essay on the late conceptual poet Dmitri Prigov, that "the new epoch we're finally entering, the epoch without a USSR, is defined by the fact that the USSR can no longer help anyone. You can no longer use it positively or negatively—you just can't. The only thing to do now is live without it."
editorial@observer.com