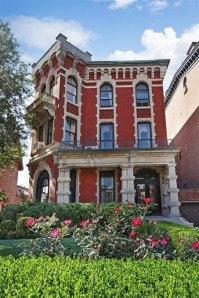 Brooklyn mansions may a rare commodity, but they can't command Manhattan trophy prices. At least not yet.
The 31-room mansion at 278 Clinton Avenue, which hit the market for an astounding $10 million in October, is now asking a considerably more modest $5.8 million. Much like the gargantuan Park Slope townhouse at 105 Eighth Avenue, which shifted almost immediately from a $25 million ask to an $18 million one, the mansion has lowered its ambitions considerably.
It's the mansion's second price cut in just a few months. The first, to $7.5 million, came after the property had been listed for just a month. We're guessing there wasn't a lot of interest from buyers looking to spend a not-so-small fortune to live in Clinton Hill. It might be "The Gold Coast" of Clinton Hill, as Corcoran broker Abdul Muid claims, but that coast doesn't bear much resemblance to the Gold Coast along Central Park, that rarefied zone of town cars and doormen and impeccably coiffed ladies who lunch.
If the mansion sells at that price, it would set a neighborhood record, but at least $5.8 million is within the realm of possibility. At 35 feet wide, with 13 bedrooms and seven baths, the free-standing red-brick Queen Anne is a cut above the nearby brownstones.
Clinton Hill is changing, of course, but it's no Park Slope, and Park Slope is no Greenwich Village, where $10 million asks are commonplace.
kvelsey@observer.com