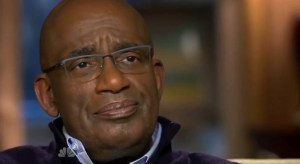 Al Roker, who is a very famous weatherman (or so we've been told), admitted on Dateline last night that he pooped in his pants at the White House after his gastric bypass surgery in 2002.
"I probably went off and ate something I wasn't supposed [to], and I was walking to the press room, and I thought I had to pass a little gas," Mr. Roker told NBC's Dr. Nancy Snyderman. "And I thought, 'Whose going to know?' Only, a little something extra came out."
Dr. Snyderman took this in stride. "You pooped in your pants," she shrugged, like a real doctor would.
"I pooped my pants," he concurred.
Video below.

Also, the full video quotes from Al Roker's book, in which he says about his weight loss, "I no longer had to beg my wife for sex."
And thus, the two most disturbing images of the day are left to your imagination! Enjoy!