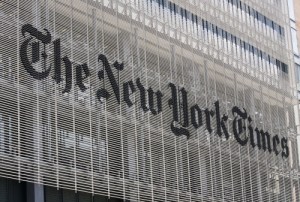 Alice DuBois is the latest Times editor to take a buyout, POLITICO reports. Ms. DuBois has been at the paper of record since 2000, most recently as editor for special projects and development, will go to BuzzFeed.
"Alice is one of those unique individuals who has a ton of editorial smarts, a great design sense AND a deep understanding of and respect for technology," Times editor for emerging platforms Fiona Spruill wrote in a staff memo to staff obtained by POLITICO.
The announcement of Ms. DuBois departure comes less than a week before the buyout deadline. If 30 employees don't take the buyout deal by January 24, executive editor Jill Abramson will be forced to go the layoff route, she announced last month. The Times announced that reporter Joyce Wadler will take the buyout earlier this week. Reporter Jacques Steinberg and culture editor Jonathan Landman have also accepted buyouts.
Ms. DuBois will help improve BuzzFeed's content management system in her role as product lead, editorial tools.