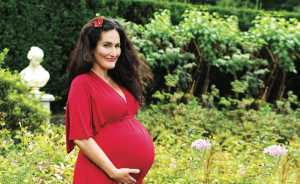 Atoosa Rubenstein, everyone's favorite cat lady, is moving her growing brood into bigger digs.
Ms. Rubenstein and commodities-trader husband Ari have purchased a palatial 4,300-square foot spread at 535 West End Avenue, city records show.
Ms. Rubenstein, the former whiz-kid editor of Seventeen and CosmoGIRL!, left the industry six years ago to start Big Momma Productions, a consultancy of sorts that appears to have done little other than maintain a vestigial web presence. Now she has three children, a rich husband and brand new condo on the Upper West Side.
Ms. Rubenstein may have left the hyper-competitive realm of tween magazines, but who says you can't be just as ambitious when it comes to home buying/making?
These days Ms. Rubenstein passes time keeping busy with the kids, doing lots of different types of yoga and, as she told Fashion Weekly Daily last September, "I'm fornicating!"
Good thing her new Extell condo has five bedrooms. There are also five baths and a 40-foot long corner living room, according to the listing, held by Brown Harris Stevens brokers Lisa Lippman and Scott Moore. It's a big upgrade from the Rubensteins' 3,000-square foot loft at West 18th Street, which sold last spring for $4 million.
This new place (also Extell) cost the Rubensteins a lot of catnip—a whopping $8.8 million. But there comes a time in every young woman's life when she realizes that it's time to leave the Flatiron loft and move into the Upper West Side prewar.
Best of all, Ms. Rubenstein's new place is way fancier than the $1.92 million apartment that Elle editor Roberta Myers bought in December, also on West End Avenue.
The Rubensteins' apartment will be a nice place for the growing family to stretch out, just like a cat in a patch of sun. Best of all, the Rubensteins managed to talk the developer down considerably from the $9.4 million ask. Thatta girl power guru!
kvelsey@observer.com