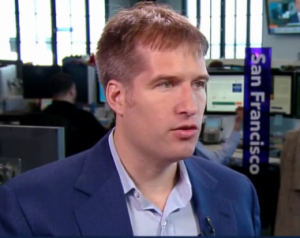 For a city that has wears its ambition to become a technology hub on its sleeve, New York lacks those coveted billion dollar exits that lend credibility to the ecosystem and help buttress the ever-multiplying ranks of startups.
Sure, consumer-facing companies like Gilt Groupe, Foursquare and Tumblr have sucked up attention, not to mention venture funding in recent years, but none of those companies appears to be close to the type of major exit or sustained profitability it takes to be king of New York.
But maybe it's not going to be a consumer-facing company that rules the Silicon Alley roost: Maybe what the ecosystem needs is thriving pure play technology firm to serve as New York's totem. At least, that's what AppNexus CEO Brian O'Kelley told Betabeat over the telephone yesterday, fresh off his companies announcement that it had closed a $75 million Series D round.
"New York needs a real technology firm to be the heart of the community," Mr. O'Kelley said. "We want to be that, we want people to point to us and say, 'You can build an innovative tech firm in New York.'"
Of course, New York has long been an ad tech kind of town. Mr. O'Kelley himself helped pioneer the ad exchange as the CTO of Right Media, which sold to Yahoo for $870 million in 2007. Google's $3.1 billion acquisition of ad tech firm DoubleClick that same year remains the exit to beat for Silicon Alley firms—and in turn spawned a series of successful New York companies, including Kevin Ryan's Gilt-10gen-Business Insider empire.
But Mr. O'Kelley said that his company's role in the ecosystem wasn't tied to its particular corner of the industry.
"It's not because we're an ad business, it's because we're a real business," he told us. "Our revenue model is proven and understood."
To that end, he said the company was serving 13 billion ads a day, and managed more than $700 million of ad spending last year, with 40 percent of the business coming from abroad.
"Marketing money is really at the core of the Internet," Mr. O'Kelley said. "Is it crazy to say that New York is going to be the hub of the financial ecosystem for the Internet? No, New York is already the hub for the global financial system."
If the company is going to wear that mantle, AppNexus's Series D, which boosted the company's total raise to $140.5 million, won't hurt. Lead by Technology Crossover Ventures, a firm noted its experience helping Facebook (META), Groupon and Netflix (NFLX) go public, and may put the company on the path to an eventual IPO.
In the meantime, Mr. O'Kelley said he wants to be increasingly active in the tech community, building on past activities like the company's sponsorship of Girls Who Code, or a fireside chat with Fab CEO Jason Goldberg that Mr. O'Kelley hosted this week at company headquarters.
As for the Series D, Mr. O'Kelley said the funds will help AppNexus scale its operations, and hinted at a big announcement this spring, as the company works on what it has called the third generation ad network.
When Betabeat checked in on AppNexus last April, the company had just opened offices in London and Paris, and boasted a staff of 230 employees.
Nine months later, the company had more than 400 employees and says it's serving 16 billion ads a day. The next year could see the company double its head count again, a hiring spree that Mr. O'Kelley said would bring fresh waves of engineering talent to New York.
Some have speculated that a $75 million raise prices AppNexus out of reach potential acquirers. "You're never too expensive for someone to acquire," Mr. O'Kelley retorted. However, company's mission is to "change the advertising world," he added, and no amount of money would divert him from that path.
As far as an eventual exit goes, Mr. O'Kelley didn't scorn the idea of going public.
"It's just another financing round," Mr. O'Kelley said of the prospect. "We're not going to have pressing need for quite some time. But there's something very special about being public. The idea of being at the center of the ecosystem, and that New York could use a real solid innovative tech company that's public. We'd love to be that company at the right time."