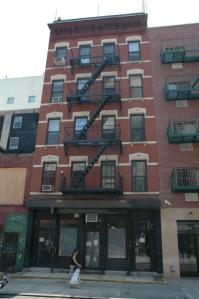 Luxury lofts and a gourmet deli now occupy the former home of Max's Kansas City and Warhol's Factory in the Decker Building has been replaced by a Puma Store and yet more luxury apartments. But here's some news that's not completely disheartening: John Cale's old apartment on Ludlow Street is occupied by artists, reports The Wall Street Journal.
The Velvet Underground co-founder fled the Lower East Side and New York City long ago (he now lives in L.A.), but we can all breathe a collective sigh of relief that the cultural geography of the city has not been completely eroded by wealth.
This may be the first time that The Journal's Mansion section hasn't made us feel bad about ourselves, New York and/or the state of the world. The famous people reminiscing about the hell holes where they lived before they were famous is by and large our favorite part of this aspirational reading for the upper classes.
Mr. Cale moved to New York in 1964 and soon met experimental filmmaker Tony Conrad, who invited him to split the $25-a-month rent for his one-bedroom at 56 Ludlow. The place was a total dump—a railroad flat with no heat besides a gas stove and a fireplace where they burned crates and furniture in the winter to keep warm.
It was squalor, but not very glamorous squalor. Mr. Cale writes about wedging a hollowed-out mattress into one of the windows to prevent break-ins from the fire escape, eating a lot of canned soup on said gas stove and having rocks thrown at them by local kids who thought their haircuts were stupid. Lou Reed stayed there on weekends so they could practice, commuting in from—also not very glamorous—Long Island.
Still, it proved a conducive setting for creativity. It was there that the band taped the six songs that became the basis for their first album. Plus, the rent, adjusted for inflation, would be $186 per-month today. Split between two people that's an astoundingly low $93 per person.
According to Streeteasy, apartments in the building have been recently rented for between $2,400 and $3,300 a month, which is affordable to successful artists, but not starving ones. Our thoughts on the raging Manhattan real estate market, as expressed in the immortal words of the Velvet Underground: Sometimes I feel so happy/ Sometimes I feel so sad/ Sometimes I feel so happy/But mostly you just make me mad.
kvelsey@observer.com