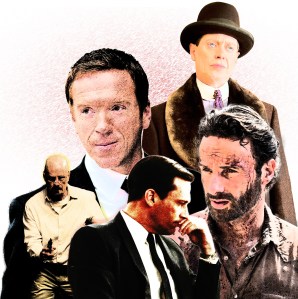 On Sunday night, as Tina Fey and Amy Poehler were making history as the first two women to successfully elbow out a male host for the Golden Globes, audiences took in an unprecedented display of girl power. With Lena Dunham winning for Best Actress in a Comedy, Girls taking Best Comedy, and Julianne Moore winning for Game Change, we trumpeted a new era … one in which women could not only captivate an audience but do so with an unlikable protagonist. (Hannah Horvath is no Tony Soprano, but she can be plenty unappealing at times.)
Many of the night's other nominees, including the stars of Veep and Nashville, fit into the same category, as did the un-nominated (but still there in spirit) Edie Falco in Nurse Jackie, Laura Linney in The Big C and Laura Dern in the criminally under-watched Enlightened, which premiered its second season this week. This last is perhaps the best example of these hard-to-watch heroines, with Ms. Dern playing the most delusional, self-righteous and self-martyring female antihero ever to traipse through premium cable.
It was a great night for rude, crude, progressive women. Unfortunately, it was an even better night for Bad Men.

In 2007, when Mad Men won the Globes for both Best Drama and Best Actor, AMC's new prime-time show featuring gin-swilling 1960s philanderer Don Draper as its protagonist was still considered edgy for a non-premium cable show. Today, networks feature increasingly despicable, morally complex and utterly doomed characters, and the awards tend to follow. In the last several years, the Hollywood Foreign Press Association has seen fit to nominate a serial killer (Dexter), a U.S. Marine-turned-Islamic terrorist (Sgt. Nicholas Brody in Homeland), several corrupt politicians (Enoch "Nucky" Thompson from Boardwalk Empire and Boss's Tom Kane) and the world's most dangerous high school science teacher (Breaking Bad's Walter White) in its Best Drama and Best Actor categories.
This year, four of these ne'er-do-wells crowded the Best Actor box, with accolades for Homeland's Damian Lewis, Breaking Bad's Bryan Cranston, Mad Men's Jon Hamm and Boardwalk's Steve Buscemi. The only exception to the rule: the disgruntled-but-ultimately righteous Will McAvoy from The Newsroom. God save us when an Aaron Sorkin antihero is the closest we get to a good guy.
The rest are endemic of a new trend in millennial TV protagonists—men who are, if not quite villains, then at least Bad Men. At best, our guy is an immoral misanthrope and a latent misogynist. At worst, he's a sociopath, one who may or may not be running an international drug cartel. Or a terrorist ring. If you're lucky, he's merely a serial killer who kills other killers. And the scary thing is: we relate to them. We empathize. And if they don't already hate their wives and children, not to worry—we do. How can we not, what with the missus harping about domestic nonsense when there is a meth empire to run or a presidential front-runner to assassinate?
It's not just awards-season accolades that reflect the shift away from shows about good guys: Homeland, Breaking Bad and Dexter beat their top ratings last season. The Walking Dead surprised even its biggest fans by shattering basic cable numbers with its season-three premiere, which saw an audience of 10.9 million total viewers, the "biggest telecast for any drama series in basic cable history," according to The Hollywood Reporter.
It's not hard to see what attracts today's audience to these characters. For the first time in our history, the majority of men will not be able to surpass their fathers in wealth or status. With the recession, record job losses and lack of affordable health care, the Great Emasculation is well underway. Thus our need for men who at least take a stand, for good or ill, men whose nihilism often stems from psychic trauma. Men who, if not kind or ethical, survive and even flourish under dismal conditions. They might not be heroes, but we respect them.
Unlike, say, their horrible wives.
Take, for instance, Jessica Brody, the wife on Homeland played by Morena Baccarin. Not only did she cheat on Sgt. Brody during his eight years in captivity and after he returned, she pestered him for "the truth" throughout season one, only to freak out about his embrace of Islam and finally kick him to the curb. Meanwhile, Brody tried—he really did—to be a good husband and father even as he plotted his terror attack. If only Jessica hadn't been so nosy, if only his daughter Dana had shown him a little bit more respect, maybe he wouldn't have felt the need to run off with a bipolar C.I.A. agent.
Which isn't to say that the protagonists of these shows ever voice any misogynistic tendencies. They don't have to. It's the programs themselves that turn the viewers against long-suffering wives, female colleagues and blameless children. A recent Huffington Post article on the 21 Worst Characters on television included the love interests on The Walking Dead, Mad Men and Boardwalk Empire. These shows, along with Breaking Bad and Homeland, all portray nosy, ineffectual matriarchs who are simultaneously ice-cold bitches, helpless victims and puritanical enforcers. We resent these women for the usual reasons women are often resented: because they are nosy, because they aren't affectionate enough, because can't keep their husbands from straying, because they are not always perfect mothers. Of course, they are driven to the brink by their husbands' actions. But in a world that glorifies amorality, women are the spoilsports. They might be "good" (at least in relation to their husbands), but that makes them worse than bad. It makes them sneaky, shrewish and thoroughly unsympathetic victims.
Walter White is a Bad Men:
[youtube http://www.youtube.com/watch?v=c9cj3E5i0Jg&w=560&h=315]
But Skylar is kind of worse:
[youtube http://www.youtube.com/watch?v=csDM1MQ7Wt8&w=560&h=315]
Even worse, they are whores.
For instance, even though both Jessica Brody and Lori Grimes had the moral loophole of thinking their husbands were dead, we can't help but resent them for carrying on with their husbands' best friends. Betty Draper and Skyler White are also guilty of the cardinal female sin of infidelity, which is much harder to swallow, somehow, then when their fellows stray. (Poor Walter White has been at least sexually faithful to his wife, only to have her retaliate for his drug dealing by having an affair with her boss.)
Despite the flagrant violence of these shows, the Bad Men still tend to put "family first," long after they give up every other social convention. And if they lash out occasionally (Draper's constant bordering-on-abusive-relationships with his paramours, including both his current and former wives) or engage in stalker-level harassment (Walter White breaking into the house of his separated wife and refusing to leave), we sympathize.
In December, a 26-year-old Long Island man named Jared Gurman got into a fight with his girlfriend of three and a half years. They were arguing about The Walking Dead. Mr. Gurman—who described himself on Facebook as "an underappreciated person," who felt that he should be "making more money at work"—took out a .22-caliber semi-automatic rifle and shot his girlfriend in the back. She ended up with fractured ribs and a punctured lung and diaphragm, all for calling Mr. Gurman's theory about the zombie apocalypse "ridiculous." Fans of the show might recognize a certain irony: despite a plethora of semi-automatics and reasons to put one to his wife's head, Rick Grimes never took a shot at his wife.
What a mensch!