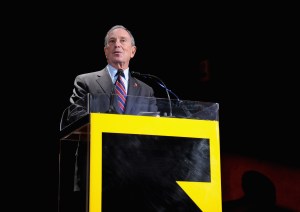 Late last night, the New York Times reported Mayor Michael Bloomberg and his advisers have reached out to at least a small slew of big-name candidates to run for Mayor of New York City, ranging from Senator Chuck Schumer to New York Daily News publisher Mort Zuckerman. The news was reported as a slight to Council Speaker Christine Quinn, widely thought to be Mr. Bloomberg's preferred candidate in the race. However, Mr. Bloomberg denied the report on MSNBC's Morning Joe earlier today.
"The article was so erroneous," Mr. Bloomberg said. "It goes after one of the people who's really made a difference in this city, Chris Quinn, our speaker in the City Council, who really has done a great job. Without her, it would have been a lot tougher, let me tell you."
Mr. Bloomberg didn't specify his objections to the article, which included two on-the-record quotes from the prospective candidates, Mr. Zuckerman and former Pennsylvania Governor Ed Rendell, discussing his outreach.
"The mayor believes he is special," Mr. Rendell said in the piece. "He wanted somebody at a very high level to come in to do a job he has often said to me—and he's not the only person who says it—is the second most difficult job in the country."
Mr. Rendell said he decided not to run as he didn't live in New York City and had no understanding of it. The mayoral campaign idea "didn't sit well with me," he told the publication.
For his part, Mr. Zuckerman reportedly mused that he would accept the mayoralty if he could be appointed, but Mr. Bloomberg's overtures amounted to merely a "teasing" feel.
The article followed last month's Times report of Mr. Bloomberg reaching out to Secretary of State Hillary Clinton–who, like Mr. Rendell, also doesn't live in the city–to run for mayor. After the news went public, Mr. Bloomberg reacted similarly.
"Why do you think I encouraged Hillary Clinton to run for mayor," Mr. Bloomberg asked reporters incredulously. "I mean, did you hear me say that?"
"This administration, I think, has been phenomenally successful," he continued. "I take great pride in that. It would not have happened without Chris Quinn being the speaker of the City Council for the last eight years. And let's leave the subject at that."