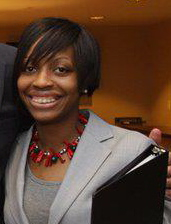 A candidate for City Council in a Sandy-ravaged Far Rockaway district is running on a hurricane-themed party line. Selvena Brooks is filing petitions to get on the ballot under the name of the "Rebuild Now" party.
Ms. Brooks, a communications specialist with the Service Employees International Union, will join a crowded field the special election to replace James Sanders in the 31st District. Mr. Sanders left his seat open after moving on to the State Senate in the last round of elections. Because New York City special elections are non-partisan, candidates like Ms. Brooks can more easily campaign outside of the two-party system.
"I am asking for people's support on the Rebuild Now line, because we need strong leadership in not only rebuilding from the devastation of Hurricane Sandy, but also rebuilding our education system, local economy and neighborhoods," Ms. Brooks said in a statement.
The election, set for Feb. 19, has attracted a slew of candidates. Mr. Sanders' former chief of staff, Donovan Richards, is a considered the front runner. However, Ms. Brooks, who has worked in the State Senate, will be one of several candidates with legitimate credentials in the race including; Attorney Jacques Leandre, community activist Mike Duncan, marketing firm head Earnest Flowers, Community Board 8 District Manager Marie Adam-Ovide and Pesach Osina, a staffer of Assemblyman Phil Goldfeder.
The district ropes in southeast Queens and Far Rockaway, which was hit particularly hard by Sandy. It has an African-American majority, but there is a sizable Orthodox Jewish community in Far Rockaway. A source with knowledge of the area told Politicker there are about 3,500 Orthodox registered voters, which could make Mr. Osina, who is also Orthodox Jewish, an intriguing dark horse candidate. Turnout in the election is expected to be low.