In case you've never used the verb 'Catfishin''–either because the concept is too vague, referring both to the idea of lying about your identity on the Internet and to those who sleuth out people who have lied on the Internet, or because you have remained blissfully unaware of the whole Catfish documentary and subsequent TV show–today is the day you join the learning curve.
Because as clunky and undefinable as it is, the term Catfish has now jumped out of its own self-referencing creation and joined the popular lexicon thanks to this  business of Notre Dame footballer Manti Te'o's fake girlfriend. And in an even weirder ourborous, the fake sister of the fake girlfriend reached out to original Catfish victim/MTV Internet sleuth Nev Schulman over the Internet while all of this was going down.

From yesterday's Deadspin story:
In yet another now-deleted tweet, Tei herself reached out to Nev Schulman, star of the 2010 film Catfish and executive producer of the MTV program of the same title. Schulman's movie and show are about romantic deception through fake online personas.
Of course, that demanded a response from Mr. Schulman, who could not be caught looking like he was tricked by Internet fakery twice, especially now that he's supposed to be an expert on this stuff.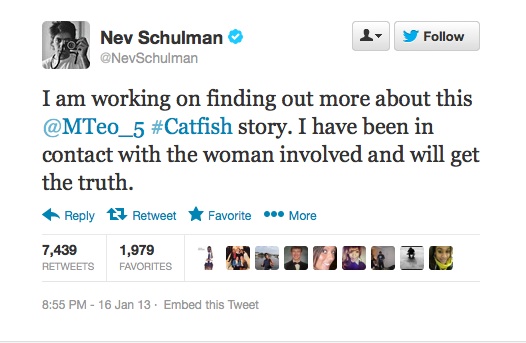 Today, he told MTV: "My reaction is, quite frankly, no different from my reaction on the show. It doesn't really change anything for me that this victim is a high-profile football player. I think it can and obviously does happen to anyone."
Which is strange, because Mr. Te'o lied about a great deal of his backstory with Lennay Kekua, so calling him a victim, even if he fell for the hoax, seems a little inaccurate, as he embellished the story himself with personal meetings that never took place.
But also: why would the alleged Catfisher, Ronaiah Tuiasosopo, reach out to Nev Schulman? Because he wanted to get caught? Did he want to be on the show? Even in character as Kekua's sister, what could he have possibly gained from interacting with the Catfish crew, other than a super-villain-level of smugness at being able to wave his calling card in the face of the show's so-called "experts"?
Questions only time will answer. Or not. Either way, happy official Catfishin' Day!