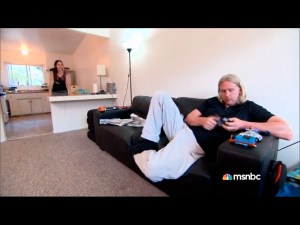 Over Christmas weekend, Matt Ritter, a lawyer-turned-comedian, premiered his new reality show on a seemingly unlikely channel—MSNBC. Mr. Ritter came up with the idea for the program when he was living in his childhood home in Plainview, Long Island, with his recently divorced parents. Because they couldn't sell their house, they were stuck cohabitating for over two years after the divorce went through.
"It was horrible. The pain should have ended, but they were forced to keep living together," Mr. Ritter told Off the Record. 
Mr. Ritter decided to turn his parents' painful situation into a reality show, and—with the help of co-creator Sam Mettler, the producer behind Intervention, A&E's unscripted drama about kicking bad habits—Chained to My Ex was born.
MSNBC, the left-leaning cable news channel, was not the obvious choice for an unscripted drama about relationships. The network mostly features talking heads (including Al Sharpton and Rachel Maddow), and its forays into reality—like Lockup—have had a news-division flavor.
"I had no idea that MSNBC would be in the market for this," Mr. Ritter said.
But according to Scott Hooker, senior executive producer at MSNBC, the series isn't that much of a new direction.
"We don't view it as an unscripted drama," Mr. Hooker told OTR. "We take a documentary approach and act like flies on the wall."
"The public may have a perception that it's different, but it isn't from a development standpoint," Elise Warner, the senior producer of the program, told OTR. "There is no comparison between this and other unscripted dramas. This is journalistically sound. It's definitely a part of MSNBC News."
Mr. Mettler agreed that the series hewed to journalistic standards. "There is inherent drama and good characters, so we don't need to make shit up," he said. And even though MSNBC isn't exactly known for balanced coverage, its credibility helped with casting.
"When subjects are wavering about whether to be on TV, MSNBC definitely helps and gives the show cachet," Mr. Mettler said. "They know it's not going to be exploitive." And, interestingly, the apolitical show got good reviews from an unexpected quarter—The New York Post, corporate sibling to MSNBC's mortal enemy, Fox News.
"Ritter's harrowing, occasionally funny show on MSNBC, of all places, follows ex-couples who, for financial and sometimes weird emotional reasons, are forced to continue living together after they've divorced," wrote Post TV critic Linda Stasi, before awarding the show three stars. Not that that translated into ratings. For its premiere episode, the show got 217,000 viewers nationally, according to Nielsen, although—to be fair—it was up against the Seahawks-Niners game.
The remaining episodes will be broadcast later this month, possibly in a new time slot. Scheduling is always tough after a divorce.