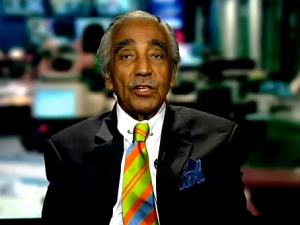 Earlier this week, Congressman Charlie Rangel made headlines when he blasted the lack of diversity in President Obama's Cabinet. In a roundtable with reporters yesterday evening where he weighed in on a variety of topics, Mr. Rangel also criticized the Republican Party for not being diverse enough. Mr. Rangel brought up the issue while he discussed his belief the country needs to be more open to immigrants and posited there are many conservative opponents to immigration reform because the G.O.P. and its constituents are not sufficiently diverse.
"All you have to do is take a picture of Republicans and a picture of Democrats and it's as though you're talking about two different countries," Mr. Rangel said.
Politicker asked the congressman for his take on the African-American members of the Republican Party. Specifically, we brought up a controversial recent New York Times editorial that argued black Republicans are "more tokens than signs of progress" because "modern-day Republicans have deployed blacks to undermine black interests." Mr. Rangel said he hadn't seen the article, but added he doesn't think it's fair to claim African-American Republicans don't act in the interests of their community because there aren't enough black Republicans to evaluate their actions.
"I think that's so unfair. First of all, I didn't read the article, but if you're talking about the record of black Republicans, there are not that many of them to reach a scientific consensus," said Mr. Rangel. "You know, who are you talking about? Jackie Robinson? Colin Powell?"
Mr. Rangel went on to comment on the "handful" of African-Americans he's encountered in the G.O.P.
"Theres so few. It would be unfair, if there are black Republicans out there that are decent, compassionate, humane people, to be judged by the handful that I've met," the congressman said with a laugh, before adding, "That was mean wasn't it?"
Mr. Rangel went on to point to Reverend A.R. Bernard, an influential African-American pastor who's mulling a run for mayor on the Republican line, as evidence there may be "nice" black Republicans he hasn't met.
"Maybe I don't go to the right places to meet those people," said Mr. Rangel. "I was surprised by Reverend Bernard. He said he was a Republican. Well, obviously the nice Republicans are not out of the closet, but I had no idea he was a Republican."