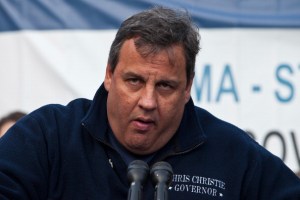 Governor Chris Christie is angry.
In addition to a statement blasted out earlier today, New Jersey's outspoken governor held a press conference this afternoon where he said Speaker John Boehner's sudden decision to halt a vote on the Hurricane Sandy relief package exemplifies "why the American people hate Congress."
"Thirty-one days for Andrew victims. Seventeen days for victims of Gustav and Ike. Ten days for victims of Katrina," Mr. Christie said, ticking off how long it took for Congress to pass relief after other natural disasters. "For the victims of Sandy in New Jersey, New York and Connecticut, there's been sixty-six days and the wait continues. There's only one group to blame for the continued suffering of these innocent victims: the House Majority and their speaker, John Boehner….Last night, politics was placed before our oath to serve our citizens. For me, it was disappointing and disgusting to watch."
Mr. Christie, a Republican like Mr. Boehner, went on to describe the House's GOP majority as "selfish" and "toxic."
"It just could not overcome the toxic, internal politics of the House Majority," Mr. Christie said of the bill. "Americans are tired of the palace intrigue and political partisanship of this Congress, which places one-upmanship ahead of the lives of the citizens who sent these people to Washington D.C. in the first place. New Jerseyans and New Yorkers are tired of being treated like second-class citizens. New York deserves better than the selfishness we saw on display last night. New Jersey deserves better than the duplicity we saw last night. America deserves better than yet another example of a government that has forgotten who they are there to serve and why. Sixty-six days and counting. Shame on you. Shame on Congress. "
Asked afterwards if he understood why the vote had been canceled, Mr. Christie said he was left completely in the dark.
"I was given no explanation," he said. "I was called at 11:20 last night by Leader Cantor and was told that he was told authority for the vote was pulled by the Speaker. Our delegation asked for a meeting with the Speaker at the time; they were refused. I called the Speaker four times last night after 11:20 and he did not take my calls….There's no reason for me to believe anything they tell me, because they've been telling me stuff for weeks. And they didn't deliver."
Update (3:09 p.m.): Here's the video: