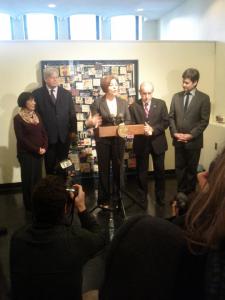 Council Speaker Christine Quinn appeared at a Greenwich Village library this morning to unveil a 9/11 tile memorial, but the question that was clearly on everyone's mind was a New York Times story about Mayor Michael Bloomberg trying to recruit a host of political heavyweights to enter this year's mayoral race. Ms. Quinn, who has all-but-officially announced her campaign and has enjoyed a close relationship with the mayor, deemed the reports he has tried to woo other potential successors as "just silly."
"I'm not going to comment on silly political parlor games, it's just silly," Ms. Quinn said. "When the mayor's race starts, what New Yorkers are going to be focused on in is who has the best record…trust me I'm happy to put my record up against anybody."
Reporters tried pressing the point by asking about the specific candidates Bloomberg reportedly recruited like Senator Charles Schumer and Pennsylvania Governor Ed Rendell, who was reportedly approached by Mr. Bloomberg's longtime advisor Bradley Tusk. Ms. Quinn declined to comment on the story, which has been seen by many as something of a betrayal given her close ties to the mayor.
"It's just silly season at the beginning of 2013 and political gossip and chitchat and I'm not really gonna comment on it. What I'm focused on is what we can do to make New Yorkers better," she said.
Mr. Schumer was also asked about the report at the launch of a new wi-fi network in Chelsea this morning. The Senator was hardly talkative, but he was decidedly less dismissive of the story than Ms. Quinn.
"Just read the newspaper," said Mr. Schumer.