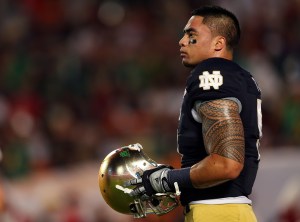 Notre Dame University's star linebacker Manti Te'o, has been the subject of nonstop controversy since Deadspin revealed his story of personal tragedy–namely his girlfriend's death–had been nothing more than a prominent hoax.
In the storm of news coverage discussing Mr. Te'o's non-girlfriend, many have argued the football player promulgated the lie, but outspoken Queens Councilman Peter Vallone has come to Mr. Te'os defense.
"seems to me like manti teo is a great kid who got scammed by really bad people and then couldnt figure out a way to get out of it which wouldnt be very embarassing for the school and himself," Mr. Vallone wrote on Facebook. "remember all of these so called statements he made were in response to questions. it's not like he was putting out press releases. we should be going after the people who would do this to another person, not him."
In a subsequent Facebook post, Mr. Vallone noted many NFL teams have professional players accused of much worse, including the Baltimore Ravens' Ray Lewis, who was indicted on murder charges and Pittsburgh Steelers quarterback Ben Roethlisberger, once accused of rape.
‎"'hoax coud make NFL teams anti-manti'. Really?" he asked, referencing the upcoming draft. "They celebrate Ray and Ben but draw the line at saying u met your online hoax girlfriend? smh."
This is not the first time Mr. Vallone has commented on sports sensations in the news. At the height of then-Knicks player Jeremy Lin's popularity, for example, Mr. Vallone wrote, "so since i cant see jeremy lin on cable because MSG wants a 53% increase, i did the next best thing and took my daughters to applebees last night and had the 'sizzling asian' special."
He then told a couple of his offended Facebook friends to lighten up, noting he is "going back to applebees now to have the 'italian special' to make me feel better."