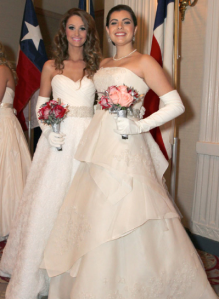 Just a few flakes swirled about our toes on Saturday night, but we were nearly blinded by the white inside the Waldorf-Astoria for the 58th Anniversary International Debutante Ball.
Some remain skeptical of such affairs, because, as one gentleman noted at the coat check, it isn't the '50s anymore. But this year's class was impressive. Swanning about in the traditional snow-colored dresses were a chemical engineering major, several accomplished philanthropists and a nationally ranked tennis player, among other offspring of socially prominent families.
When we spotted Olympic swim team doctor Dr. Scott Rodeo, we couldn't help asking if he'd trust unofficial bachelor of the year Ryan Lochte with his debutante daughter, Sarah. "Absolutely!" was the surprising answer, "Ryan's a great guy. Have you met him?" We have, and Sarah, we think you could do better. 
The first stop for the 24-karat guests was the receiving line in The Astor Room, where one man with a spectacularly waxed mustache—after suffering blows by several bustles, trains and furs—quipped, "it's just like prom, isn't it?!" Forty-seven quick, gloved handshakes later, the guests, in tails and taffeta, were swept to cocktail hour while the debutantes posed for portraits.
Historically, each lady has been escorted by a civilian and a military academy gent in formal uniform, bused in from West Point, the Naval Academy or the Citadel. But this year was different: annoyed partygoers said military lawyers had decided to enforce a long-ignored rule against wearing uniforms to certain types of events. Naval midshipmen rented tuxes, West Pointers sat out the affair altogether, and Citadel students were allowed to wear their uniforms because they're not directly affiliated with the U.S. military.
"They said the debutante ball is considered a beauty pageant and escort service," explained one midshipman wearing a tux, as his date, Elizabeth Galbraith, erupted into giggles.
Later in the night, another Naval Academy student, Steve Jaenke, opined that he had to pay $200 to rent a tux in place of his uniform. "But honestly, I'm just glad we came," he said.
Christine Schott, whose daughter Whitney sported one of the loveliest gowns of the evening, designed by Pippa Middleton favorite Misha Nonoo (Amanda Seyfried wore a shorter version of the dress to the Les Misérables premiere), cleared up the confusion for West Point's lawyers.
"It's not at all like a pageant," she told us. "There's one moment of the night when they're up on stage, but otherwise it's about teaching them networking, etiquette and diplomacy." Ms. Schott herself came out in the Waldorf's ballroom, and she hopes her younger daughter will follow suit.
Meanwhile, the civilian escorts were unsure of their duties. It's hard to find anyone more commitment-phobic than a teenage boy, and the irony of escorting a woman in a white ball gown down an aisle of friends and family was not lost on them. At the cocktail hour, escort Michael Rolla admitted that his debutante girlfriend's stress about the ceremony had rubbed off on him. Not so for his pal William Pierrepont, who had met his date that night. We asked if he was nervous. "Nope!" he replied and leaned back in his gilded parlor chair.
The escort of the evening was Hon. Iona Murray's brother, who came in full formal kilt and argyle regalia to walk his sister, the daughter of Viscount and Viscountess Stormont of Scotland. Talk of his charm was whispered throughout the cocktail hour, and when we asked a group of mothers what the buzz was about, one replied, "Have you met the girl from Scotland's escort? He's so handsome, and sweet!" No peeking, ladies!
After a dinner of lobster rolls, grilled tournedos of beef and arugula salad with caramelized pears—Dr. Christine Frissora, gastroenterologist and mother of aforementioned debutante Sarah Rodeo, told us that ending a meal with the salad course is ideal for digestion—the ceremony began.
Polite applause and the occasional hoot welcomed each girl, her escort and her military escort. Country by country and state by state, they paraded through the glittering red and green ballroom and up the carpeted staircase, the silver-coated petals in their bouquets trembling as they curtsied in platform heels. Jazzy, state-appropriate entry songs got laughs ("Yankee Doodle Dandy") and cheers ("Sweet Home Alabama").
Anticipation for the famed Texas Dip, the dramatic floor-grazing swan-dive curtsy of Texan tradition, reached a near-frenzy when the state was announced, proving that in the event of secession, Texas would have plenty of loyal, low-bowing patriots.
Haley Anderson, whose grandfather Jerry Jones owns the Dallas Cowboys, was up first, and sunk to the ground with grace, rising to a standing ovation. Only one Texan faltered, garnering gasps and oohs from the crowd. But a rapid recovery and one final procession later, the dance party began. And prom-like it was!
Just as one debutante was leaning in to tell us that once one has come out, one should act more "like a lady," "Gangnam Style" pumped through the speakers, and one deb climbed unceremoniously onto the stage, her escorts in tow, leading the crowd in the horseback-riding pantomime.
By 1:30 a.m., debutantes and their families were just beginning to find their ways to the coat check, and revelers were still unstably gyrating to top 40 hits, their coifs now topped with the multicolored, pom-pommed bucket hats of the renowned Lester Lanin Band. Auspicious debuts indeed.