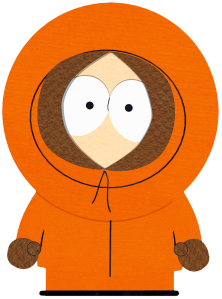 In the Sunday New York Times, David Carr wrote about the economics of the South Park empire. But it seems he hadn't watched the show since they stopped killing Kenny back in 2002.  And the result is one of the better corrections we have come across.
"An earlier version of this column misstated a plot point in South Park," today's correction notes. "While the character Kenny was once killed in every episode, that is no longer the case." And, as the correction goes on to note, although Kenny died a a variety of ways, he was not "routinely 'ritually sacrificed.'" We can't believe an editor didn't catch that one, but we suppose that the article wasn't edited by a 12 year-old circa 2003.
"Oh My God! They Killed Kenny!" was once a catch phrase on the Comedy Central show. But the animated South Park elementary school character is no longer killed in every episode. Now, it's more of an occasional thing.  "The old South Park catch phrase up until 2002, when they stopped killing Kenny and he came back from the dead through the help of Chef's parents and yet another lame Rob Schnieder movie," Urban Dictionary explains.
"Don't worry, they aren't going to actually kill Kenny, who for years was done away with in every episode," the revised article now reads. No worries, correction appended.
Full correction below:
Correction: January 28, 2013

An earlier version of this column misstated a plot point in "South Park." While the character Kenny was once killed in every episode, that is no longer the case. The earlier version also misstated the circumstances of his repeated deaths. While he has met his fate in a variety of ways over the years, he was not routinely "ritually sacrificed."