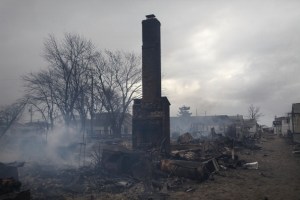 Unsurprisingly, the governors of the two states most ravaged by Hurricane Sandy, New Yorker's Andrew Cuomo and New Jersey's Chris Christie, are not pleased with the Republican leadership in House of Representatives after they decided to not take up relief legislation last night. To emphasize their displeasure, the two released a joint statement criticizing the chamber for the move.
"With all that New York and New Jersey and our millions of residents and small businesses have suffered and endured, this continued inaction and indifference by the House of Representatives is inexcusable," they said. "It has now been 66 days since Hurricane Sandy hit and 27 days since President Obama put forth a responsible aid proposal that passed with a bi-partisan vote in the Senate while the House has failed to even bring it to the floor. This failure to come to the aid of Americans following a severe and devastating natural disaster is unprecedented. The fact that days continue to go by while people suffer, families are out of their homes, and men and women remain jobless and struggling during these harsh winter months is a dereliction of duty. When American citizens are in need we come to their aid. That tradition was abandoned in the House last night."
The statement added, "The people of our states can no long afford to wait while politicians in Washington play games."
Mr. Christie, a Republican, and Mr. Cuomo, a Democrat, are joined in their criticism by local officials of both parties throughout their two states, as well as House Democrats like Minority Leader Nancy Pelosi.