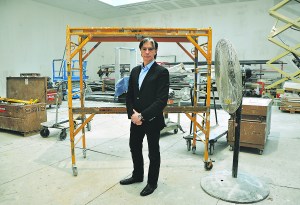 Last Friday, David Zwirner gallery announced that longtime Chelsea dealer Christopher D'Amelio will join Zwirner as the gallery's fifth partner, and will be based out of the new Zwirner space on West 20th Street, set to open Feb. 15. The new job means that Mr. D'Amelio will close his own eponymous gallery just one year after splitting with partner Lucien Terras, with whom he ran the mid-sized gallery D'Amelio Terras for 15 years.
In an interview Monday, Mr. D'Amelio called the experience of running his own gallery "highly positive"—he said his sales there over the past year have been three times better than in any previous year—but said the Zwirner opportunity was too good to pass up.
"If you're a mid-sized, respected gallery, even a highly respected mid-sized gallery," Mr. D'Amelio said, "you're always at this precipice. To get to the other side can be hard. You don't want to slip off. To get into art fairs can be hard, to function financially can be hard, to deal with something like Hurricane Sandy can be hard, to deal with so many things can be hard. And we do it, but I was going to build a slow bridge to the other side," and reach a more comfortable place, when "suddenly I had an opportunity to open my wings and soar over that divide, and I'm about to land on the other side."
The 30,000-square-foot, five-story Zwirner building on 20th Street represents the latest expansion for the gallery, which went international last year with a townhouse in London's Mayfair. Mr. D'Amelio's new home will stage shows with a more historical bent, though Zwirner boasts a number of impressive primary-market artists, Luc Tuymans and Lisa Yuskavage among them.
The space will open with a show of works from two of Zwirner's prized Minimalist estates, those of Dan Flavin and Donald Judd. Kristine Bell, a Zwirner partner who will head up 20th Street with Mr. D'Amelio, ran Zwirner & Wirth, a secondary-market-only partnership between Mr. Zwirner and dealer Iwan Wirth that operated out of what is now Hauser & Wirth's gallery on 69th Street.
Since then she has organized shows for the gallery by Dan Flavin, Donald Judd, Fred Sandback and Al Taylor, whose estates she manages.
Mr. D'Amelio also sees 20th Street as as an opportunity to show older works by living artists, including some who might not be in the Zwirner stable. These days, he said, most galleries embrace this sort of exposure for their artists. He views artist representation as less of a zero-sum game today due to the proliferation of quality international galleries and art fairs. Paula Cooper, where he worked from 1992 to 1996, used to be very protective of its artists, he said, mainly because "in the past, there were not that many great galleries that Paula Cooper would partner with. Now they're everywhere, in every city, in every country." When he staged a Polly Apfelbaum show last year, Mr. D'Amelio encouraged the Hansel and Gretel Picture Garden gallery, two blocks down, to stage a complementary show of her work at the same time. Why not? "They're great, they have great energy."
Zwirner 20th Street has already planned something like this, with a show of earlier works by Richard Serra, who shows most often at Gagosian gallery. Such shows provide context and feed into a current interest in what Mr. D'Amelio called "contemporary masters" from the 1980s and '90s. As an example of that demand, Mr. D'Amelio cited his booth at Art Basel last June, which featured a solo show of sculptures by Cady Noland. "I think every single person in the fair—curators, directors, all the other gallery owners and collectors—were essentially lining up to come into our booth like we had a white tiger in it or something," he said.
Mr. D'Amelio knows Ms. Noland from his days at Cooper, which also provided him with the background to deal in Zwirner's Minimalist icons. Mr. Zwirner actually first offered Mr. D'Amelio a job just as he set out from Cooper to start his own gallery with Mr. Terras. The current job offer, the one he eventually took, was extended last year, just as he was starting his own gallery. He wanted to give the D'Amelio gallery a fair shot, but the position at Zwirner remained in the back of his head for all of 2012.
By the holidays, his mind was made up. Hurricane Sandy made Mr. D'Amelio consider the bureaucratic headaches that come with running a smaller gallery, even though his own escaped the storm for the most part unscathed. Now he'll have a team backing him up, so that he can focus on artists, curators and collectors.
Almost certainly a factor in his decision to take the job, too, was a trip he made in May to see the massive 20th Street space, a former parking garage. He told that story while standing in it Monday, as workers bustled around him to finish construction. "I was like, 'Wooow,'" he said. "I turned to David and I said, 'I can't believe this! I remember when you used to be on Greene Street!'"
Though it was hard to close his gallery, he's done what he can to find new homes for his artists. "That will take a little bit of time, because it's personality-based, but they're all going to be fine," Mr. D'Amelio said. "I still remain their biggest fan, I'll just do that from a different place." He starts at Zwirner on Feb. 1.

Update 1/23, 9 a.m.: An earlier version of this story misstated the years Mr. D'Amelio worked at Paula Cooper.