Last fall, right after Hurricane Sandy slammed into New York, observant Manhattanites may have noticed that odd posters had appeared along some of their city's streets. Pieces of striped paper, with the stripes precisely spaced, had been posted to walls and billboards around downtown without any explanation. There was no brand name—no text of any kind. Just stripes. One with bright aquamarine and white stripes popped up about a block from this writer's apartment, on Avenue A near East 14th Street. About a week later, they were gone.
Earlier this week, the striped posters began popping up again. They are the work of 74-year-old French artist Daniel Buren—he calls them affichages sauvages (savage postings)—and he's been installing them around various cities for nearly five decades. The stripes are always the same size, exactly 8.7 centimeters across. The posters in November were timed to coincide with a two-gallery show at Bortolami and Petzel in Chelsea, which was scuttled by Sandy. Two months later, that show is finally coming to fruition.
Late last Friday afternoon, just as it was starting to get dark out, Mr, Buren was standing in Petzel, watching as two young women attempted to install some of that paper 20 feet high on a wall.
It was not going well.
The sheets of green and white striped paper that they were pasting to the wall were sucking up the glue and expanding, so that when they dried, they cracked. The women tore off the sheets and started again with a new kind of adhesive. There was a large stack of fresh striped paper on the floor.
"Amazing," Mr. Buren said, eying a large stack of fresh striped paper that sat, ready, on the floor. He looked a bit surprised; this had never happened before.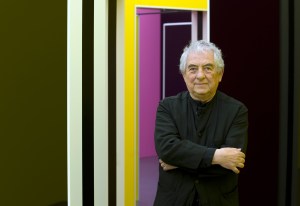 "You know, paper's pretty powerful stuff!" one of the women called down, and he nodded, not looking particularly concerned. A compact man with a solid head of white hair, he looks a bit like you would expect a celebrated avant-gardist to look—dressed in all black with a serious mien, but he's warm and exuberant when he gets excited about an idea, which happens frequently.
The show at Petzel, which opens on Thursday, Jan. 10, along with a show of other new works at Bortolami, includes a number of such installations made with striped paper. Here's the part you might not be expecting from storm-ravaged Chelsea galleries just recovering from Sandy's flooding and with bills to pay: when the exhibition closes on Feb. 16, all of the paper will simply be thrown out. They are what Mr. Buren calls in situ pieces, works designed for a specific location. Once the papers are taken off the wall, their short lives as artworks are over. Collectors aiming to acquire such works must have them fitted for a given place, which makes them tough sells.
"You can give me your house, and I will do that in your house, and I will be very happy," Mr. Buren said during an interview with The Observer at Bortolami. His French accent lends a piquancy to his more radical statements. "You will pay me for the cost of the thing, and it will be difficult to resell," he continued. "That is the only problem. That is a good problem."
Even as he approaches his sixth decade as an artist, perhaps the most decorated artist of his generation in France (he has been in the world's most prestigious exhibition, the Venice Biennale, 10 times, and won its top prize in 1986), he still carries himself with the air of the charismatic and opinionated enfant terrible who took Paris by storm in the mid 1960s. He had a gang then, having joined with three other artists, Olivier Mosset, Michel Parmentier and Niele Toroni, to form a group called BMPT. Each of them adopted a single abstract motif and repeated it. Mr. Mosset offered up nothing but basic shapes on canvas, Mr. Toroni just single dabs of a brush, spaced equally across each of his canvases, and Mr. Buren those 8.7-centimeter stripes, a design that he found printed on fabric in a Parisian market.
"My painting, at the limit, can only signify itself," Mr. Buren told an interviewer in 1968, as the group was gaining attention. "It is. So much so, and so well, that anyone can make it and claim it." What meaning, after all, can one ascribe to ready-made stripes, repeated ad infinitum? "Perhaps the only thing that one can do after having seen a canvas like ours is total revolution," he declared back then.
The artists signed each other's canvases, painted each other's works (sometimes in public) and issued manifestos that made clear that they sought to eject all content from their paintings, killing off the medium and starting over from the beginning. One from January 1967 declared, "Because to paint is to give aesthetic value to flowers, women, eroticism, the daily environment, art, dadaism, psychoanalysis and the war in Vietnam, we are not painters." And then, 10 months later: "Art is the illusion of disorientation, the illusion of liberty, the illusion of presence, the illusion of the sacred, the illusion of Nature … Not the painting of Buren, Mosset, Parmentier or Toroni. Art is a distraction, art is false. Painting begins with Buren, Mosset, Parmentier, Toroni."
Beginning in the mid 1960s, Mr. Buren began to design his work for specific locations, and in 1968 he ventured out onto Paris's streets, pasting his stripes around the city. In 1970, he spent about 10 days giving New York the stripe treatment, sending out a card informing people that they could call a telephone number to find out his pieces' locations. He was what some might now call a "street artist." Those in the know were lured to examine new parts of the city; those who were unaware were merely baffled. "They would say, 'What is that?!'" Mr. Buren recalled. "'It's intriguing' or 'It's stupid' or whatsoever."