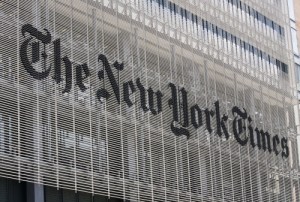 The January 24 buyout deadline for Times employees is upon us, and so far only a small handful of journalists has decided to leave the Gray Lady voluntarily.
Managing editor John Geddes, who noted in his departure memo that he had served under four executive editors, announced that he was taking the buyout, though he was unclear on his future plans.
"I'm moving on," Mr. Geddes wrote. "I've arrived at that magical spot where a buyout offer miraculously appears and presents me with new opportunities. Yes, yes, I know everyone says you have to do this carefully and be armed with a plan, but I don't have one—not yet."
Joyce Wadler, the original boldfaced-name columnist, also announced her decision to take a buyout last week. The announcement was included in a longer housekeeping email to Times staff, noting that Ms. Wadler will leave the Times to pursue her passion: humor writing.
Editor Alice DuBois decided that she was going to take the buyout and move to BuzzFeed. Ms. DuBois has been at the Times since 2000, most recently as editor for special projects and development. At BuzzFeed, she will help improve the website's content management system as a product lead for editorial tools.
"Alice is one of those unique individuals who has a ton of editorial smarts, a great design sense and a deep understanding of and respect for technology," Times editor for emerging platforms Fiona Spruill wrote in a staff memo obtained by Politico.
Meanwhile, assistant managing editor Jonathan Landman and reporter Jacques Steinberg also announced their departures earlier this month.
Outside the newsroom, Times P.R. chief Bob Christie announced that he was leaving the paper after running corporate communications for the past three years.
"My position was eliminated as part of company wide cost cutting," Mr. Christie wrote in an email to Off the Record. The Times has no plans to replace Mr. Christie.
With one day left before the deadline, there are probably more departures in the works, although we appear to be a long way off from the 30 takers management was hoping to attract.
However, the big winner here might be Times CEO Mark Thompson, who came to the paper last November bearing the since largely forgotten taint of the BBC Newsnight scandal. If you recall, Mr. Thompson's customary meet-and-greet town halls were originally scheduled for mid-December, then pushed back to "early 2013" as news of the buyouts broke and the BBC scandal loomed. According to a Times spokesperson, the town halls are still scheduled for the first quarter, although the company had "no firm dates to share yet." Still, no staffers we spoke to had heard anything about them, and the matter seems to have slipped through the cracks.