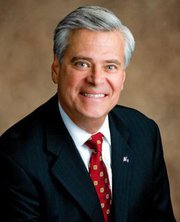 As liberals rejoiced over the parts of Governor Andrew Cuomo's State of the State address that promised tougher gun laws and campaign finance reform, the State Senate's Republican Leader Dean Skelos released a video hinting at a legislative battle to come when he said he would not support the public financing of campaigns.
"I do not support taxpayer dollars to fund political campaigns," Mr. Skelos said after explaining that Republicans did back increasing "transparency" and "accountability" in the campaign process. "If the public campaign finance system in New York City was applied statewide and to legislative campaigns, it would cost taxpayers more than 200 million dollars. That's money that would be much better spent on property tax relief or investing more money in rural upstate school districts and underperforming school districts around the state."
It's no accident that Mr. Skelos mentioned "Upstate" school districts in his critique of a public finance system for campaigns, as while Mr. Cuomo said he supported a system that would mirror New York City's by providing public matching funds to state candidates, Mr. Skelos' conference is based almost entirely outside of the five boroughs. But as Mr. Skelos is now a "co-leader" with a breakaway Democratic contingent that often touts their support for strong campaign finance reform, this could cause some tension in the upper legislative chamber. One of those Democrats, Senator Diane Savino, has already expressed some doubts.
Mr. Skelos did not directly respond to the Governor's proposals to severely curb "high capacity assault rifles" and increase background checks. He did say Senate Republicans would be supportive of limiting high capacity firearm magazines, one of Mr. Cuomo's priorities. However, as he has done in the past, he mostly focused on the curtailing of "illegal guns."
"I believe we must pursue a comprehensive approach that includes cracking down on the possession and use of illegal guns that are used to commit 90 percent of gun related crimes in NYC and 70 percent statewide," he said. "Illegal guns are the common thread of tragic stories splashed across the front pages."
Mr. Skelos further stressed the need to provide more assistance for the mentally ill and said he would back the strengthening of Kendra's Law, a measure that allows state judges to order closely monitored outpatient treatment for a small subset of mentally ill people.
Watch below:
[youtube=http://www.youtube.com/watch?v=L8s-JaZ9Mt0&w=560&h=315]