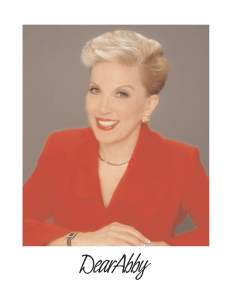 "Dear Abby" columnist Pauline Phillips died today in Minneapolis, her syndicate Universal Uclick, announced this afternoon. Ms. Phillips was 94 and had Alzheimer's disease for over ten years.
"I have lost my mother, my mentor and my best friend," her daughter, Jeanne Phillips, said in the release. "My mother leaves very big high heels to fill with a legacy of compassion, commitment and positive social change. I will honor her memory every day by continuing this legacy."
The younger Ms. Phillips officially took over the column as "Abigail Van Buren" in 2002, following an announcement that Ms. Phillips had been diagnosed with Alzheimer's disease. According to Universal Uclick, the column is still syndicated in about 1,400 newspapers and has over 110 million readers.
Ms. Phillips' twin sister, Ann Landers, who died in 2002, was also a newspaper advice columnist. After helping her sister on her column, Ms. Phillips decided to find one of her own. She began her life as an advice columnist in 1955 when, according to Universal Uclick, she called the editor of The San Fransisco Chronicle, where had recently moved, and to say that she could do a better advice column. And she did.
"It never occurred to me that I'd have any kind of career," The New York Times wrote that Ms. Phillips said in a 1986 interview with The Los Angeles Times. "But after I was married, I thought, 'There has to be something more to life than mah-jongg.' "