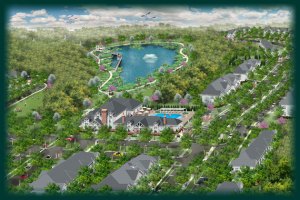 Are you looking for "a great place for really nice people to live, work and have fun!" A place where exclamation points are employed unironically and artists are idealistic rather than cynical and crabby? In New Jersey?
Well, if anyone would know what it means to dream the impossible dream, it would be Mitch Leigh, the developer of the New Jersey planned community for really nice people, who made his fortune by writing the unlikely musical hit "Man of La Mancha."
In light of the controversy and curiosity surrounding his commercials promoting Jackson Twenty-One, the as-yet unbuilt community for really nice people, The New York Times has profiled the developer/composer. Mr. Leigh's appeals to the friendlier, more idealistic elements of society and his kooky ads have left some suspecting him of Musical Man-style hucksterism.
After all, who signs off an ad for a real estate development by telling viewers: "If you're not a nice person, please don't call."
Mr. Leigh admits that Jackson 21 is still decades away from completion (it has yet to break ground), but it's a fully legit enterprise, The Times assures us. Mr. Leigh, feeling not so optimistic about the taxes on his Broadway windfall, invested in a lot of real estate over the years. Unfortunately, none of it in Bushwick or Red Hook.
Despite the fact that artists tend to be do-it-yourself types attracted to neglected industrial spaces, Mr. Leigh feels that this could be the solution to the seemingly endless cycle of settlement and displacement that has dogged creative types from Soho to Williamsburg. But if they want to join this planned community in New Jersey, they had better leave their snooty gallery girls, their hipper-than-thou baristas and their habit of ending sentences with unenthusiastic periods back in the city.
"I believe there is room for the absence of cynicism," he told The Times. And in the under-developed acres of Jackson township, New Jersey, a wild hope that artists and nice people can coalesce around what Mr. Leigh describes as "a one-of-a-kind green village I'm building right next door to Six Flags Great Adventure in scenic New Jersey."
kvelsey@observer.com