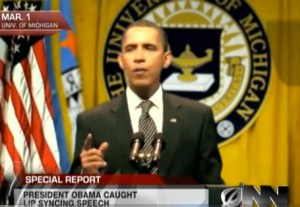 Whether or not today's rumors about Beyonce lip-syncing the national anthem yesterday are true or not, aren't we missing the much larger point? If Beyonce wasn't really using her microphone, what's to say that President Obama didn't lip-sync his entire inaugural address?
The problem with that premise–which would have been a fine morning-after joke–was that it had already been released as a satirical video from The Onion three days before the inauguration.

[protected-iframe id="820be54fc1e3e48f6e824116ce31699f-35584880-35147716″ info="http://www.theonion.com/video_embed/?id=278″ width="480″ height="270″ scrolling="no"]
Obama Caught Lip-Syncing Speech
Did The Onion have some insider information that there would be a lip-syncing debate during the inauguration? It wouldn't have been too much of a stretch. Consider this:
President Obama's speech was pre-planned: Much like Beyonce was caught by her own Instagram account holding sheet music in a recording studio before the event, multiple outlets confirmed receiving a copy of the president's text for the day before he even took the stage.
Too bad the parody video was not taken seriously at the time this video was released, allowing us to do a full investigation over claims of fake talk/singing before the Obama was resworn into office.