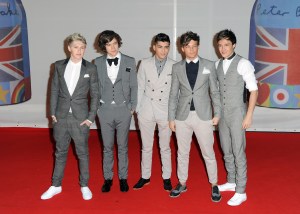 The sound of 15,000 girls screaming at the top of their lungs was not what I thought it would be.
I had imagined it to be harsh and piercing, with the integrity of each individual scream maintained, like 15,000 stabbing stilettos. But it turns out there is no escaping fluid dynamics: 15,000 girls screaming turns out to be less a sound than a sensation, a molten force that surges forward in waves.
When I went to see the English boy band One Direction at Madison Square Garden on Dec. 3, I had never before attended a teenybopper-type concert. I've been to a good number of Bruce Springsteen shows, many in stadium venues far larger than the Garden, and people shout at those, too. They sing along to "Badlands" and "Born to Run" and call out "Bruce," elongating the vowel to what sounds, amusingly, like a long, low "boo."
But I had never in my life heard or felt anything like the scream that greeted the dimming of the house lights a few weeks ago. I glanced to my left and locked tired, terrified eyes with the mother standing next to me. I thought I had made a friend. It turned out that her terror was a ruse; she knew all the words to every one of One Direction's songs.
It has been a tough, exhausting fall for New York City—really the whole tristate area. Sandy took a lot out of us. But if the girls at the One Direction show were tired, they sure didn't sound it. After the show, I left Madison Square Garden feeling strangely elated. As scalding as the flood of screams was, there was something obscurely inspiring, even reviving, about it.
The problem, though, was that the audience seemed considerably more excited about the concert than the band did. The five members of One Direction, which has had two No. 1
albums in the United States in the past nine months, don't "play it cool." They smile and express in long, heartfelt monologues their awe at being onstage at the Garden—"this is the best night of my life" was a sentiment heard more than once from the stage—and how much they owe to the fans that put them there. They wear their eagerness and enthusiasm on their sleeves, but there's something unpersuasive at their core.
What is the experience of a One Direction concert like? Their stage show, at least at this point, is more streamlined than the classic Backstreet Boys or 'N Sync production, with its mechanical arms and flying effects. Circa 2012 it is the video graphics that take center stage, with an unparalleled level of sophistication and detail. Laser beams sweep and bursts of steam shoot up from the floor as One Direction literally skips around the stage.
It turns out that skipping and walking just about sum up what the five boys, who are all between 18 and 20, are physically capable of doing. They can't dance—not a single step. They can't even shuffle rhythmically from foot to foot. Looking back at videos from the HBO special made during 'N Sync's No Strings Attached tour in 2000, it isn't that those guys are forbidding or larger than life. They smile, they joke, they talk about how much the crowd's support means to them. But they perform with exuberant precision. Shaggy and good-natured, One Direction doesn't.
At one point in the concert, the band covered the 2000 Wheatus single "Teenage Dirtbag," best known for its appearance in the Jason Biggs movie Loser (the song seemed like a mystifyingly random choice until I discovered that it had been, back in the day, a far bigger hit in the U.K. than here).
This, someone decided, would be a dance moment. Harry, the mop-haired, kind of fetal-faced one whom you could make a case for as the "leader" of the group, was singing the opening verse while three of the other boys took a stab at dancing on the back risers. Their choreography seemed to consist of rhythmic squats performed while vibrating their arms in front of them. Niall (the boyish one with braces) did it halfheartedly, while glancing at Liam (the dull-eyed sexy one) as if to say, "What the fuck are we doing?"
Zayn, to his credit, was having none of it. In his reticence there was, if you thought long enough about it, a glimmer of his onetime refusal to dance—due, he said, to lack of confidence, but probably more a result of his reluctance to make a fool of himself—when he was a contestant in 2010 on the British version of The X Factor, the show on which the boys were separately discovered and ingeniously combined.
It is fascinating when a boy in a boy band does not do what he has been told, and in that regard Zayn Malik is a fascinating character. Half Pakistani, he is the hot one, and the only gesture toward diversity in what is otherwise a lily-white band. He would—or will—be the breakout star, the one with a solo career.
He is also the only one capable of doing things with his voice that go beyond an above-average high-school musical theater performance. Zayn gets the soulful-ish, croony moments that Justin Timberlake got to sing for 'N Sync—like "I don't wanna be your fool in this game for two" in "Bye Bye Bye"—and he handles them nicely.
Because that is another thing: One Direction can sing, but not with any virtuosity or energy. At best they get through it and hit their marks (most of the time: Niall, who pretends to play the guitar, is particularly weak, and Louis, the classically handsome one, is little better). While the concert was, to all appearances, remarkably free of lip-synching and back tracks, the exposed singing was not inept but just … fine.
At one point toward the end of the show, the boys took a break and answered questions that popped up on the video screen from girls who had tweeted them. These were softballs—things like "Which of you can jump the highest?"—and the boys smiled through them, displaying surprisingly little of the basic star qualities, charisma and flair. There's something disconcertingly sexless about the band. "The way that you flip your hair gets me overwhelmed" goes their hit "What Makes You Beautiful," a sentiment more stylist-to-client than stud-to-lady. At the Garden there were no crotch grabs, no big-lipped air kisses into the audience. One girl's question went something like, "If you were an animal, what would your mating call be?" This type of query and others like it seemed to beg for PG-13 answers, but the ones they got were resolutely, blandly G.
There is something about One Direction that doesn't quite have traction, and despite their big album sales and a sold-out show at Madison Square Garden (not to mention a swiftly sold-out tour next year), their songs have not had the consistently shining performance on radio that would prove their long-term viability.
One Direction is certainly not the first band to attract a lot of attention and the adoration of young women without being brilliantly dynamic, but there was something disturbing in how workaday their talents were; the preteen girls a few rows in front of me were better dancers. I felt carried on that wave of screaming to a moment in culture sometime in the near future, when what happens onstage at a concert will be the same as what happens in the crowd: varying degrees of amateurism.
editorial@observer.com