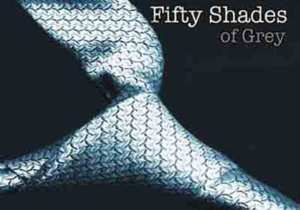 Doubleday is all set to release the mega-bestselling, softcore BDSM trilogy in hardcover on January 29, the publishing house officially announced this morning.
The hardcover editions of the insanely successful series will include notable extras such as "themed endpapers (ties, masks, handcuffs)," "rough front pages" and "red silk ribbon markers"–making them the perfect collectible Valentine's Day gift for the serious Fifty Shades fan. 
 "As interest in the Fifty Shades trilogy has grown, readers have been asking for hardcover editions of the books," said Vintage/Anchor publisher Anne Messitte, who acquired the series. "These new hardcovers include unique production elements, making them the ultimate collector's editions for readers of the trilogy and the perfect gift for Valentine's Day."
How romantic! But we thought that a large part of the success of the series was that nobody can see what you are reading when it's an ebook. But a hardcover edition for the ultimate collector? Well, now that the series has sold more than 35 million copies domestically and 65 million copies worldwide in paperback and ebook, we suppose the stigma about reading racy books in public has mostly disappeared. Random House certainly hopes so.
But what we really want to know is: just how rough are those front pages?