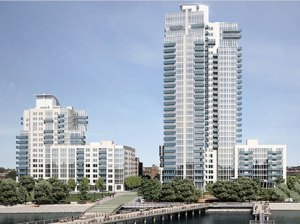 Recently, life at Williamsburg's the Edge has been a little too… edgy. Sure, the well-heeled crowd that calls the luxury condo home was hoping for some grit when they moved to the wilds of Brooklyn, but things have become downright hardscrabble recently.
First, residents were forced to evacuate during Hurricane Sandy. Which was, arguably, the price one pays for living on the waterfront, in Zone A (and in the end things turned out fine).
But now, during some of the coldest weather in recent memory, Edge residents have had to deal chilly apartments and a dysfunctional heating system, Curbed reports.
What's worse, the heat didn't just go out during these frigid last few days, it's been spotty for more than a month. At first, we thought this might be the next step in the "Green Revolution" that the LEED-certified building is leading. But apparently it's just a mechanical malfunction.
Whenever the heat went out, residents were being told to reset their unit breakers by turning them off and on. Which worked okay, except when they left the apartment or fell asleep.
"We all do this," a tipster wrote Curbed, "go to sleep, and then in the middle of the night whatever heat we temporarily had SWITCHES BACK TO FREEZING AC! It is an absolute nightmare."
And who has money for space heaters after blowing more than a million dollars on an apartment?
Today, building management said that the problem has been fixed after mechanics identified the cause of the problem—a cooling fan for the heating pump was overheating, causing the heating pump to fail and leaving the whole building cold. Got that?
Management tells Curbed that the problem occurred seven times over the last three weeks, but it was never out for more than two hours.
We hope the Edge stays toasty and if not, we recommend that residents remember why they moved to Williamsburg in the first place—so they could play at being starving artists in under-heated lofts. If you think of it that way, shivering in a cold condo can seem almost fun.
kvelsey@observer.com