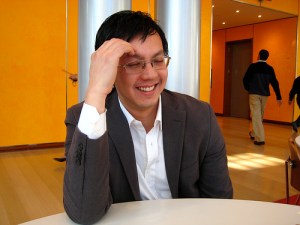 Shopping Site Goes Shopping Back in 2011, Khoi Vinh, the former design director for The New York Times's website, attempted to launch an iPad collage maker called Mixel that even Taylor Swift would love. The interface was kind of clunky, and the company soon pivoted to a smoother iPhone product, which became fairly successful. And now Mixel has been acquired by the custom product giant Etsy.
No, you won't be creating any collages of your twee collectables any time soon. According to AllThingsD, The Mixel team is being acquired for its stellar mobile talents. Mr. Vinh and his cofounder Scott Ostler, along with employees Akiva Leffert and Roy Stanfield, will all make the move to Etsy's Brooklyn offices. Mixel will be shutting down the social side of its app, but will leave up its collage-making tool. In an email to Betabeat, Etsy CTO Kellan Elliot-McCrea explains, "We expect our mobile traffic to surpass desktop traffic by the end of 2014." 
Not Even Punking You Kanye West's favorite Pinterest-like site, The Fancy, just expanded its subscription box service, originally a monthly plan that gives you $60 of curated goods for $30. Now everyone, not just the minds at Fancy, can choose a bunch of items to send out to their adoring fans. Fancy gets to split the profits with you, of course. The first partner is Ashton Kutcher with his A+ Box, which includes brain-shaped ice cubes and mustache-shaped Band-Aids.
Iowa Now Trendiest State Dwolla, the fast-growing money transfer app, reached a pretty big milestone this week. The company announced its partnership with the Iowa state government to help modernize the state's tax system. Starting soon, businesses will be able to use Dwolla to pay the cigarette stamp tax, which accounts for about $100 million of Iowa's revenue each year. In a blog post, the company seems to be looking to the future already: "And while you may not be able to pay your taxes using Dwolla today, you are going to start seeing our logo pop up here and there as the state looks to modernize the payment experiences and do better business for the 21st century taxpayer and economy (e.g. mobile payments, low-cost transfers, and real-time notifications, etc.)."
Norman Mailer Badge Foursquare recently partnered up with Voice Media Group, the company that was spun off from Village Voice Media, now without the icky Backpage.com. The Voice's Places event data will now be syndicated on Foursquare and the company's highly popular "Best Of" will be integrated into the service as well.
Let's All Go to the Lobby: Dogfish Accelerator, the first accelerator program for film producers, launched this week. Started by a former TechStars associate, James Belfer, the accelerator puts film teams in a three-month intensive training and networking program and gives them $18,000 in seed funding, along with free office space. But why wouldn't you just try a Kickstarter and go to Sundance?
Award Tour See.Me, the social network for artists, is currently running a bunch of contests for its 600,000 users. There's $125,000 in grants and awards up for grabs. The site has just announced that founding Tribe Called Quest member Q-Tip is going to serve as a judge for its music competition. In a press release sent to Betabeat, William Etundi, founder and CEO of See.Me, said, "Our simple goal is support creative people with recognition, shows and grants and we are super excited to bring Q-Tip into that process."
Fund My Relationship Coming Soon If you've ever wanted your neighbors to pick your next significant other, then you should try ChainDate. The site is billing itself as the world's first site that uses crowdsourcing to find you a match. Every user gets "Wingpeople," users who like the same type of person that you do. The site matches you up with people that these similar-minded users thought were cute too. Sounds a bit competitive.
Nothing Really Matters The mobile analytics firm Adeven claims that over 435,000 new apps will be added to the iOS app store in 2013. That's too many apps to fit on your tiny phone, but don't worry, you won't even notice most of them. The firm also reports that 60 perecent of apps are "zombie apps," or apps that go completely undiscovered by iPhone users. A Zombie App Survival Guide is surely forthcoming.
Stuff Michelle Obama Likes  Whole Kids Foundation, PACT and Indiegogo are teaming up to help build urban sustainable gardens across the country. Leaders raise $2,500 on Indiegogo pages and Whole Kids Foundation will provide additional help like gardening materials. Crowdfunding kind of saves the day again.
Help Out, Y'all LuckyAnt, the crowfunding platform for small businesses, is hosting a very large crowdfunding campaign for 9 South Street Seaport businesses to help them out in the enduring disaster of hurricane Sandy. There's 19 days left in the project to rebuild historic Front Street and over $10,000 has already been raised.
Wake Up, Loser If waking up to the blaring sound of beeping or shocking radio static isn't for you, then you should download Mood O'Clock. It's the first emotional alarm app for Android, which lets you choose what kind of mood you want to wake up to. Depending on what you choose, the app will play you a corresponding morning soundtrack. We need a setting to help us wake up feeling like a brogrammer for those special Saturdays.