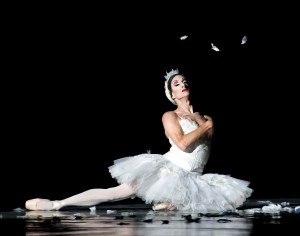 The big event at the Trocks' season at the Joyce (the Trocks, of course, are Les Ballets Trockadero de Monte Carlo), was a restaging of Laurencia. Well, not the entire Laurencia, which is a 1939 multi-act Soviet piece of what they used to call choreo-drama—all heroism and uplifting patriotism, the kind of thing that led to Spartacus and Stone Flower—but of its non-narrative finale, 17 minutes of classical dance with colorful Spanishy costumes and a strong infusion of Spanishy folkiness. Like most of the Trocks' Russian repertory, it was staged by Elena Kunikova—exact in steps and style, so you know you're getting the real thing, with the guys disciplined to the tips of their pointe shoes. They do a terrific job, but you can't help wondering what they could do with the story itself—the peasant uprising that turns on an attempt by the local military Commander to snatch the passionate Laurencia from her boyfriend, Frondoso. (The tyrant, you'll be stunned to learn, is done away with: The People triumph!)
What we have here is the celebration of that triumph, and it's packed full of energetic classical dancing. But the material is more generic than original—the legendary Russian/Georgian dancer Vakhtang Chabukiani, who choreographed it, was no Petipa. Nonetheless, it proved an immensely popular vehicle for his over-the-top performance style and the brilliance of the renowned ballerina Natalia Dudinskaya, and it became a tempation for generations of future Russian dancers for whom he was a lodestar. (To see Chabukiani at his absolutely most extraordinary, watch him on YouTube as Othello—a wild, deranged savage. As Frondoso, seen in his later days, he's chunky and less than polished, but still a hurricane.) Laurencia isn't helped by its score;Alexander Krain's music is of such lack of distinction that you forget it even while you're hearing it. Where was Minkus when we needed him? Actually, he was right there at the Joyce, with his winning score to Petipa's Paquita, also staged by Kunikova and perhaps the Trocks' greatest current achievement. That formidable ballerina Yakatarina Verbosovich (Chase Johnsey) nails every arabesque and fouetté, and the company's latest danseur noble, Marat Legupski (Giovanni Ravelo), is even dumber-seeming than his mentally challenged predecessors.
Legupski is also gloriously vacant as the Nijinsky figure in Les Sylphides and the Prince in Swan Lake, his Soviet-gold hair ablaze and his stare fixed on some ineffable vision up in the empyrean—no wonder he never seems to notice his ballerina. In fact, it's not clear he's aware that he himself is on the stage. His technique is not exactly top-drawer—the men dancing as men tend to be less strong than the men dancing as women. For real virtuosity, we have the immortal Olga Supphozova (Robert Carter) and the aforementioned Verbosovich, whose Black Swan Pas de Deux was frighteningly powerful and convincing. Here we approach the line between the real thing and the … the what? This was a more exciting Black Swan than all too many I've seen in my (long) day. And to the roster of ballerina fame we can now add the up-and-coming Marina Plezegetovstageskaya (Roberto Forleo), who was our affecting Odette and an outrageous Taglioni in that battle of divas, Pas de Quatre.
The hardest thing for the Trocks to get right is the balance between authenticity and jokiness. Swan Lake seems too jokey today; Laurencia not jokey enough. The older repertory involves many too many pratfalls, many too many ballerinas knocking each other over, much too much spotlight hogging. The foibles of the old Ballets Russes aren't relevant any more; the real nonsense of dance today is the pretentiousness of the concept-obsessed avant-garde. But this is a ballet company, comfortable in its après-garde genre and superb at what it does. And its best jokes are as good as ever. When Ida Nevasayneva (Paul Ghiselin) bourrées out from the wings as The Dying Swan, not just dying but seriously molting, it's ridiculous, it's hammy, we've seen it again and again—and it's very, very funny.
editorial@observer.com