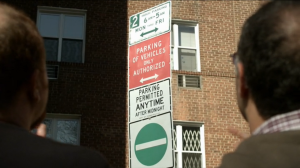 At today's press conference unveiling the new and improved parking signs for Midtown, quite a few reporters questioned the actual need for redesigning the street signs. Both Transportation Commissioner Janette Sadik-Khan and City Councilman Dan Garodnick said they had received complaints about the old signs and agreed they required "a PhD in traffic" to decipher.
Among those flunking out on their TCATs? None other than the brilliant Louis C.K.
The Observer was just on the phone with Michael Bierut, the celebrated designer whose firm Pentagram helped the city redesign the street signs. (You can read more about what actually went into the signs in Wednesday's print edition of the paper, and the unusual emphasis New York tends to put on our signage—we're a busy city.) During our conversation, Mr. Beirut reminded The Observer that the first episode of the third season of Mr. C.K.'s show Louie, the title character spends the opening and closing credits puzzling over an embellished version of the city's parking signs.
"It's a sign that's been exaggerated, but only slightly," Mr. Beirut said. "Most New Yorkers would look at that and think it probably existed somewhere because some of our signs were that confusing."
[youtube=http://www.youtube.com/watch?v=90TqrVXLb_Q&w=600&h=450]
The first scene mostly consists of Mr. C.K. and another driver just making confused faces. "I can't…" Mr. C.K. mutters, before reading off some of the absurd regulations.
"Is it after midnight?" his flummoxed compatriot asks.
"Yeah, but it's also after midnight," Mr. C.K. responds.
One sign reads "2 hour parking, 6 a.m. – 5 a.m., Mon. thru Fri.," the kind of vague window that would confuse anyone. The sign below it reads, "Parking of vehicles only authorized." Bureaucratese at its finest.
The second scene only gets even more ridiculous as they try and puzzle out the meaningless green circle:
[youtube=http://www.youtube.com/watch?v=lmQYeSSdd9k&w=600&h=450]