We wonder… when Citigroup (C)'s chief economist was looking for a condo, did he ask his broker: "Would you tell me please, which way I ought to go?"
And did the broker reply: "that depends a good deal on where you want to get to."
That's the Carroll quote that Willem Buiter started his attention-grabbing paper Alice in Euroland with. Why not his house hunt?
We're still waiting to hear back from Mr. Buiter so we can ask him ourselves, but when it came to negotiating a price, everyone's favorite economist provocateur did not disappoint. Mr. Willem and wife Anne (who also has an economics PhD) finagled a $100,000 discount on his four-bedroom, 4.5-bath condo at 60 Riverside Boulevard.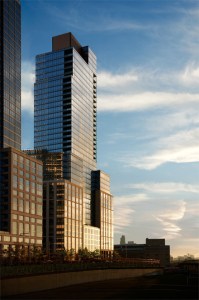 City records show that the Buiters paid $4.35 for the 2,505-square foot sponsor unit in Extell's Aldyn, a deal brokered by Corcoran Sunshine Marketing Group.
Naturally, Citigroup's chief economist eschewed the established enclaves around Central Park for something a little more iconoclastic—the far West Side.
As he told The Wall Street Journal, "I like saying things that drive people around the bend."
You know what else Mr. Buiter likes (besides researching monetary unions)? Glass-walled great rooms with Brazilian cherry floors, marble chef blocks and teak-wrapped master baths with Zuma deep soaking tubs. Also: custom-crackle porcelain tile, views of the George Washington bridge and condo towers with rock climbing walls and bowling alleys.
Mr. Buiter's blunt pronouncements on the Eurozone have given him something of a cult-like following in the finance world. Will his acolytes join him on the banks of the Hudson River?
kvelsey@observer.com