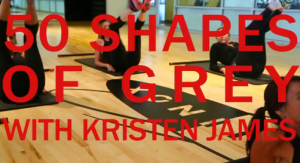 Did you think the Fifty Shades of Grey phenomena would just fade away now that Girls is back on? Sorry, no, your mother would rather read about Christian Grey and imagine herself as Anastasia Steele than think about the awkward sex you might be having with a bisexual right now. (Even though, hey, remember when Bret Easton Ellis floated Lena Dunham's name as a possible candidate for the heroine in his adaptation of the book, which will now never see the light of day?)
Now a new theatrical parody, Doubleday's hardcover printing of the E.L. James trilogy and casting speculation on the upcoming film, 2013 looks like it just might be another great day for vanilla BDSM sex!

First of all: SPANK!. SPANK! is a new show, premiering in Cleveland before going on international tour (which is how the pros do it, really) that has been described as a satiric send-up of Fifty Shades by its director, Jim Millan, who is apparently not afraid of trademark lawsuits.
From the Toledo Free Press:

Overall, Millan describes "SPANK!" as a fractured fairytale of the book. Others describe it as equal parts Chippendales and Second City. The director stressed that the production doesn't take itself too seriously.

"We don't make fun of the book," Millan said. "It's a parody but it's really a celebration about being free to choose a lifestyle or dare to try something. It's a celebration of something that's become a pop icon. Like when the lights go down and our male character enters, there is screaming like it's a Justin Bieber concert. I never would have expected that. When I created the opening with a very big rock god entrance for our lead male, I didn't know that would elicit screams. But that's what the audience brings to it, their excitement because they've had a lot of fun with this."
That actually sounds terrifying. Someone needs to get the male lead a couple of bodyguards. Who preferably haven't read the book.
And just in case Etsy users haven't sucked up all the merchandising potential off the teat of this Capitoline Wolf, there's Kristen James (no relation), an exercise guru who is now offering New York classes called "50 Shapes of Grey." Here are just a few maneuvers you could be learning by skipping Pilates next week:
[protected-iframe id="8062cb50ec7daa1fdac13514c5a9fead-35584880-35147716″ info="http://c.brightcove.com/services/viewer/federated_f9?isVid=1&isUI=1″ width="630″ height="354″]
Finally all the speculation over the casting has got the Internet in an uproar. Current fan favorite is leaning towards Garrett Hedlund as Christian, as the author recently tweeted that she was watching Troy. And of course, all the Twilight players are still frontrunners in fans' minds, since, let's not forget, the whole Fifty Shades of Grey thing started out as Twilight fan-fic. However, a fan-made trailer on YouTube which already has over 200,000 views takes the bold stance of casting Amanda Seyfried opposite Hudland.
[youtube http://www.youtube.com/watch?v=_FZrBWYSTAU&w=560&h=315]
So tell us: How much do you care about fan art based on fan art based on Twilight?