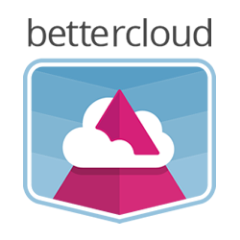 In a recent blog post about the Series A crunch for consumer Internet startups, Fred Wilson wrote, "now that the momentum/late stage wants enterprise, we should expect the layers below to give them enterprise."
Flybridge Capital Partners, an early-stage VC firm with a focus on enterprise startups and companies that support infrastructure for consumer-facing startups (like 10Gen), is well positioned to capitalize on that trend. In September, the Boston-based firm opened an office in New York City, moving principal Matt Witheiler out to join the team. And today Flybridge leading a $5.05 million Series A round in BetterCloud, an enterprise startup that provides cloud management tools for Google Apps.
Since launching in the Google Apps Marketplace just six months ago, BetterCloud has picked up 15,000 business clients like The Financial Times, representing more than 5.5 million users.
Greycroft Partners and TriBeCa Venture Partners also participated in the round and Mr. Aronoff, the lead investor, will join BetterCloud's board of directors. Including the $2.2 million seed round BetterCloud raised in May 2012, that brings the company's funding to date to $7.25 million.
BetterCloud flagship product FlashPlanel is a platform that lets Google Apps administrators offer more controls, visibility, and automation. "Google is fairly quiet," about sharing stats on Google Apps adoption, Mr. Aronoff told Betabeat, "so you have to look at some proxies." Like for instance, the fast growth in BetterCloud's user base. "We did some digging in terms of our own research," he said, and announcements about corporate users moving to Gmail and other products were another indicator about the rise of Google Apps.
Despite concerns about the security and privacy, Mr. Aronoff said the reality is that, "The cloud is the inflection point and starting with consumers and moving into business, there's this inexorable drive of moving off premise."
The other attractive aspect about BetterCloud's business model, he said, was its emphasis on community, partly through interacting on forums for Google Apps. "If you take a consumer-like approach, you can build a rabid very excited," user base that helps seed the way you think about your product. "For the next generation of enterprise software," he said, "The theme is care of the community.
As for that dreaded Series A crunch, Mr. Aronoff said Flybridge has "largely been insulated from it." The firm invests in its portfolio companies through the lifecycle of the startups. "We're still seeing healthy competition in seed deals as they progress and need Series A," he said, calling the BetterCloud round "competitive" as well.
Looking at the consumer side, however, "We've been waiting for [the Series A crunch] to come for awhile," he noted. "There's just not enough venture capital firms to fund them. There's always competition and market valuation for the best companies, but you're gonna see a bunch of potholes and I'm not sure thats really a bad thing." Companies that can't secure the funds can operate on a shoe string, merge with a competitor, or "go back to the drawing board."