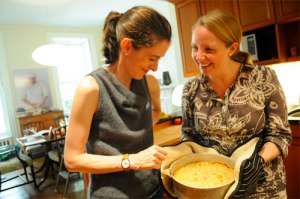 Former New York Times food editor Amanda Hesser made a media splash a few years ago with the launch of a crowdsourced home-cooking site called Food52. Started with Merrill Stubs, who co-authored The Essential New York Times Cookbook with Ms. Hesser, Food52 has become a household name for certain Internet-savvy foodies. The site features recipes, a hotline for asking and answering food questions, as well as plenty of recipe contests. Now, Food52 has raised $2 million, according to a Form D filed with the SEC and published on FormDs.com.
A source within the company confirmed to Betabeat that it has closed the $2 million round. The form indicates that 13 investors participated in the round, but does not state which firms that includes. However, Lerer Ventures' Ken Lerer is listed on the form, and our Food52 source confirmed that his firm is an investor. Lerer Ventures also participated in Food52's seed round when it raised $750,000, and Mr. Lerer currently sits on the company's board.
The fresh infusion of capital will most likely go towards expanding popular features on the Food52 website, as well as possibly launching some new products, though the source declined to elaborate just what those might be.
The Food52 site currently features a shop that collaborates with "high-quality producers, shops and artisans to bring you the greatest in food and drink, kitchen and tabletop items, books and gastro-fabulous experiences." Ms. Hesser and Ms. Stubbs also published a well-received crowdsourced cookbook called The Food52 Cookbook: 140 Winning Recipes from Exceptional Home Cooks back in October 2011.