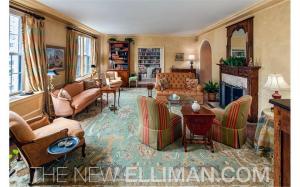 As we sluggishly drag our feet through the first few days of 2013, it is comforting to see evidence that as much as some things have changed, other things remain the same. The residential divide between Uptown and Downtown has all but been erased and the Manhattan/Brooklyn hierarchy turned on its head, but Republican diplomats still prefer the rarefied precincts of Park Avenue.
Reuben Jeffery III, the former Under Secretary of State for Economic, Business and Agricultural Affairs appointed by George W. Bush and wife Robin have purchased a floor-through at 620 Park Avenue, according to city records. 
The purchase price was a lofty $9.16 million, but then, Mr. Jeffery was no low-level bureaucrat and he is currently CEO of Rockefeller & Co., an asset manager responsible for overseeing some $27 billion. He also moonlights as a senior advisor at the Center for Strategic and International Studies. Nor does the board of 620 Park Avenue take financial fitness on faith—the board is said to require 50 percent down on all purchases.
Mr. Jeffery, who served as the president's special advisor on Lower Manhattan in the wake of 9/11, clearly prefers uptown when it comes to his own residence. And why take a Tribeca loft when you can have a cavernous floor-through designed by J.E.R. Carpenter? Particularly if one has the credentials to impress a famously hard-to-please board?
The apartment, which was listed for $9.5 million with Douglas Elliman brokers Pamela Nichols and Jason Stojkovic at the end of September, sold briskly. Seller Margaret Darrin purchased the apartment in 1998.
"It was really priced right," said Ms. Nichols. "The owners really wanted to sell this year."
Ms. Nichols declined to divulge what the original seller had paid for the 10-room co-op, but she said it had been significantly less than $9 million, which went to show what a good investment Manhattan real estate was.
"It's really a lovely apartment in a very nice little building," she added. "It has open views, which is really very unique." Open views, a private elevator landing, a library with a wet bar and a master bedroom with a dressing room, private office and a wood-burning fireplace.
kvelsey@observer.com