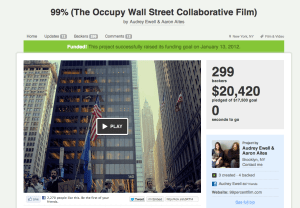 With one day left in January, there's still time for the annual media ritual: celebrating Kickstarter's crowdfunded contributions to world cinema. NPR has already noted that 10 percent of this year's Sundance selections raised money through Startupland's answer to Harvey Weinstein. That's the same percentage of the Sundance slate Kickstarter helped back in 2012.
Last year, Kickstarter sent 19 films to Park City, four of which picked up awards. This year, 17 Kickstarter-backed films made it to Sundance and took home 5 awards. More importantly, you might actually get a chance to see some, since four films already inked deals. 
Blood Brother won the U. S. Grand Jury Prize: Documentary & U.S. Documentary Audience Award, both Inequality For All and American Promise picked up the U. S. Documentary Special Jury Award for Achievement in Filmmaking, This is Martin Bonner won Audience Award: Best of NEXT, and The Square won Audience Award: World Cinema: Documentary.
In terms of distribution deals, Newlyweeds sold to Phase 4, Inequality For All sold to Radius, I Used to Be Darker sold to Monteray Media, and 99%: The Occupy Wall Street Collaborative Film sold to Participant Media.

Those weren't the only notches in the Kickstarter team's hipster belts this week. David Gallagher, deputy tech editor at The New York Times, announced on Twitter that he will soon be joining as director of communications. "We're thrilled that David's decided to join the team," said Justin Kazmark, who has been handling PR for the company for awhile. Any other journos interested in defecting, the company is hiring. Here's a handy reference guide for Silicon Alley negotiations.