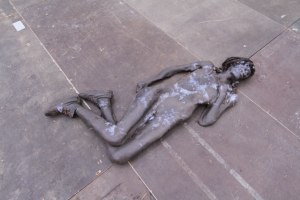 Today the art fair Frieze New York, which will have its second edition on Randall's Island May 10-13, announced the details of its "Projects" series, a group of artworks specially commissioned for the fair.
The five artists chosen by the series' curator Cecilia Alemani this year are Liz Glynn, Maria Loboda, Mateo Tannatt, Andra Ursuta and Marianne Vitale. There will also be a tribute to late artist Gordon Matta-Clark's famous restaurant Food, which the artist created in downtown Manhattan in 1971. And novelist Ben Marcus will write an original text for Frieze.
As with past editions of the fair—in New York, last year, and in its 10-year old London edition—the "Projects" are ambitious. According to a press release, Liz Glynn is creating a 1920s-style bar decorated like an old bank vault that will only be accessible through a secret door. Bartenders will not only serve cocktails, but perform magic tricks. Maria Loboda is transforming a part of Randall's Island Park into a replica of a color plate of a European interior design motif from the 19th century. Mateo Tannatt's sculptures will be accompanied by scripted performances. Andra Ursuta is creating a cemetery for art, complete with marble headstones. Marianne Vitale is bringing stripped-down weather vanes inside the Frieze tent.