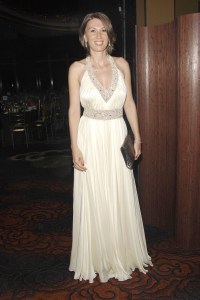 She may not wield political power in her homeland, but emigré princess Kristina Kovalenko is definitely trying to harness the power of the Manhattan real estate market.
The Russian royal, who hails from the republic of Kabardino-Balkaria, bought her four-bedroom, four bath condo for $4.2 million back in August 2009, city records show. In the meantime, Ms. Kovalenko has kitted out the luxurious Lincoln Square condo at 43 West 64th Street in a fashion befitting an Eastern European monarch. There is lots of black leather, bright red and metallic accents and in the living room, not one but two baby grands (one in white, one in black). Now she's asking $8 million for the place.
Douglas Elliman broker Natalia Gavrilov, who has the listing, said that the asking price was reflective of all that has changed since the depths of the recession. "There's really no inventory like this, especially the high-end apartments," she told The Observer. 
The prewar, loft-like apartment has posh touches like barrel-vaulted ceilings, marble-clad bathrooms and juliet balconies. Buyers with champagne tastes on a beer budget should look elsewhere. In fact, Ms. Kovalenko doesn't even deign to drink anything as commonplace as champagne—her signature cocktail is $5,000-a-bottle Louis XIII Remy Martin cognac mixed with apple juice.
The princess, who moved to Manhattan from Moscow in 2009, might think nothing of spending $6,500 on lunch or $8,000 on an evening of bowling, but when it comes to real estate, Ms. Kovalenko is clearly profit-driven. And why not? Something has to pay for $300-a-pop cocktails.
Ms. Gavrilov declined to comment on Ms. Kovalenko's reasons for selling. But for a woman with exceedingly expensive taste there are clearly better trophy options out there. Like 15 Central Park West, where Dmitry Rybolovlev bought his little princess a $88 million penthouse. Or the apple of every oligarch's eye: One57.
kvelsey@observer.com